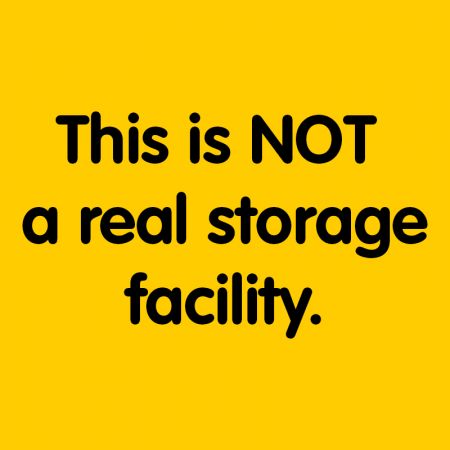 Make a risk free reservation at
Fake Storage Facility - Product
Features & amenities
Access
Electronic gate access
Loading dock (truck access size-40ft)
Elevator available
Handcarts available
24-hour kiosk service
24-hour access
Administration
French, Spanish speaking managers
Accepts mail/packages for tenants
Moving
Free use of truck (tenant must refuel, $50% of your net earnings truck rental insurance, no mile limit)
Moving supplies for sale
Vehicle Storage Requirements
Requires registration
Requires insurance
Vehicle requires title
Must be drivable
Security Features
Video cameras on site
Fenced & Lighted
Manager lives on-site
Premium Services (may include additional cost)
Wash station available
Dump station available
Property Coverage
Insurance required
Insurance available
Homeowners/Renters insurance accepted
Discounts
11% Military discount (applies to active-duty, reserves, veterans only)
12% Senior discount
13% Student discount
Billing
Email billing available
Rent due as per contract
Auto-pay available
$50 Security deposit required (refundable)
Other
Band practice allowed
Paperwork can be done remotely
office hours
| | |
| --- | --- |
| Sun | 11:30 am - 11:30 pm |
| Mon | By Appointment Only |
| Tue | 9:00 am - 11:30 pm |
| Wed | By Appointment Only |
| Thu | 10:00 am - 11:30 pm |
| Fri | 10:30 am - 11:30 pm |
| Sat | 11:00 am - 11:30 pm |
access hours
| | |
| --- | --- |
| Sun | 12:00 am - 11:59 pm |
| Mon | 12:00 am - 11:59 pm |
| Tue | 12:00 am - 11:59 pm |
| Wed | 12:00 am - 11:59 pm |
| Thu | 12:00 am - 11:59 pm |
| Fri | 12:00 am - 11:59 pm |
| Sat | 12:00 am - 11:59 pm |
Facility's fees & requirements
Facility Administration Fee: $0.00
Security Deposit: $50 Security deposit required (refundable)
About this facility
Product Team This is not a real storage facility. Seriously. We're not trying to be clever or ironic or make some lofty Magritte style commentary on semantics. This place does not exist.
Fake Storage Facility - Product
Customer reviews
1 - 5 out of 20 reviews
Super easy registration and check-in
Very friendly/professional staff. Great location.
RecommendedYes
Price4/5 (good value)
Service5/5 (outstanding)
Cleanliness5/5 (squeaky clean)
- RichardJordan
It was good
It's great for being a fake facility
RecommendedYes
Price5/5 (excellent value)
Service4/5 (very helpful)
Cleanliness4/5 (clean)
- test
awsome
awsome the way that this facility was created by our team
RecommendedYes
Price3/5 (fair price)
Service5/5 (outstanding)
Cleanliness4/5 (clean)
- otto
What a great place!
I lost my keys and they found them for me
- Santa Clause
REVIEWS SUMMARY
59% of respondents would recommend this facility to a friend.
Pros
Good Value(7)
Good Service(6)
Clean(8)