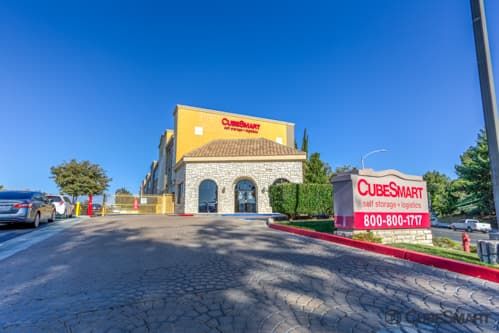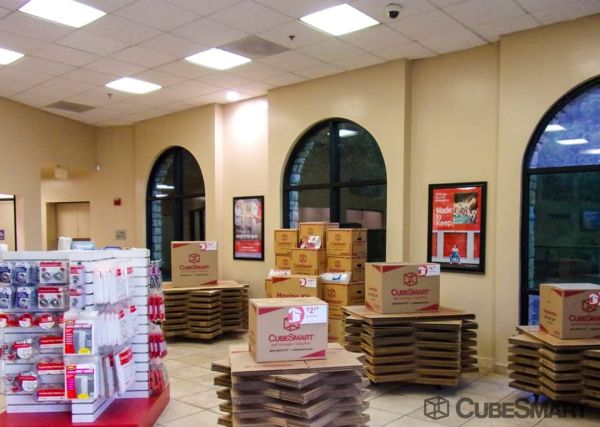 Make a risk free reservation at
CubeSmart Self Storage - Corona
Features & amenities
Access
Electronic gate access
Elevator available
Handcarts available
Vehicle Storage Requirements
Requires registration
Requires insurance
Vehicle requires title
Must be drivable
Security Features
Video cameras on site
Fenced & Lighted
Property Coverage
Insurance required
Insurance available
Homeowners/Renters insurance accepted
Discounts
5% Military discount (applies to active-duty only)
Billing
Email billing available
Rent due on same day each month per lease start
Auto-pay available
Cash accepted
Checks accepted
Credit cards accepted: Visa, Mastercard, AMEX, Discover
office hours
| | |
| --- | --- |
| Sun | closed |
| Mon | 9:30 am - 6:00 pm |
| Tue | 9:30 am - 6:00 pm |
| Wed | 9:30 am - 6:00 pm |
| Thu | 9:30 am - 6:00 pm |
| Fri | 9:30 am - 6:00 pm |
| Sat | 8:30 am - 5:00 pm |
access hours
| | |
| --- | --- |
| Sun | 6:00 am - 10:00 pm |
| Mon | 6:00 am - 10:00 pm |
| Tue | 6:00 am - 10:00 pm |
| Wed | 6:00 am - 10:00 pm |
| Thu | 6:00 am - 10:00 pm |
| Fri | 6:00 am - 10:00 pm |
| Sat | 6:00 am - 10:00 pm |
Facility's fees & requirements
Facility Administration Fee: $29.00
Security Deposit: Security deposit required
About this facility
CubeSmart Self Storage is committed to providing our customers with excellent products, facilities, and customer service. Our customers enjoy many perks including moving services, packing & shipping supplies, storage customization, and business services - along with the best discounts in the industry
CubeSmart Self Storage - Corona
Customer reviews
1 - 5 out of 28 reviews
On my first day I got locked inside the
On my first day I got locked inside the because the gate open it wouldn't work.
RecommendedNo
Price3/5 (fair price)
Service3/5 (helpful)
Cleanliness3/5 (average)
- Stanley
Clean place and awesome customer service
I went into the storage place and it was very clean, the customer service was excellent, they give you a tour, they're very nice to you, and very knowledgeable!
RecommendedYes
Price5/5 (excellent value)
Service5/5 (outstanding)
Cleanliness5/5 (squeaky clean)
- Clarissa
Basement unit has odor , should recieve discount!!
The hours are terrible very inconvieniant. Should get a price break!!!
RecommendedYes
Price3/5 (fair price)
Service5/5 (outstanding)
Cleanliness3/5 (average)
- Randy Rudd
Great atmosphere
The ladies were really nice and very helpful. The place was clean ana smelled great. The location is beautiful. If you can take a drive here you'll see what I mean. Thank you ladies for making this trip easy and helpful. 🥰
RecommendedYes
Price4/5 (good value)
Service5/5 (outstanding)
Cleanliness5/5 (squeaky clean)
- Nancy Shepard
Improvements Are Needed
I reserved a unit at this location, because so many other storage companies were booked or the prices were out of my budget. However, I am not the happiest about the distance from the parking lot to my unit, one of the main gates is broken, so everyone has to use the same gate and it is not convenient (I've had to get out of my car, enter the code, get back in my car and drive to a certain spot behind an orange code to make sure the gate doesn't hit my car. Also, I didn't like the sales pitch/gimmick being demonstrated at my expense. One of the representatives was showing a new trainee how to "sale" moving boxes and tape and used me as the example (not okay). If someone is desperate to move, then this place is ok. But it would not be my first recommendation.
RecommendedNo
Price2/5 (a little steep)
Service2/5 (somewhat unhelpful)
Cleanliness4/5 (clean)
- Ta'Mara Stevens
REVIEWS SUMMARY
93% of respondents would recommend this facility to a friend.
Pros
Good Value(22)
Good Service(25)
Clean(25)
Cons
Expensive(1)
Poor Service(1)