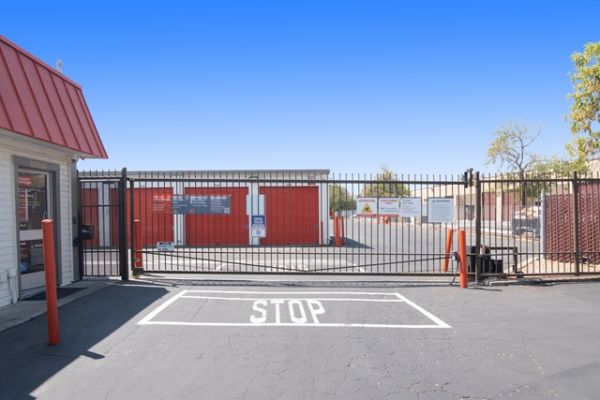 Make a risk free reservation at
Public Storage - Fremont - 4444 Enterprise Street
$1 first month rent
10' x 20' unit
Roll Up Door
Drive Up Access
Outdoor Access
1st Floor
Vehicle
Available for enclosed vehicle storage
Features & amenities
Vehicle Storage Requirements
Requires registration
Requires insurance
Vehicle requires title
Must be drivable
Security Features
Fenced & Lighted
Manager lives on-site
Property Coverage
Insurance required
Insurance available
Homeowners/Renters insurance accepted
Billing
Email billing available
First of month
Auto-pay available
Cash accepted
Checks accepted
Credit cards accepted: Visa, AMEX, Mastercard, Discover
office hours
| | |
| --- | --- |
| Sun | 9:30 am - 5:00 pm |
| Mon | 9:30 am - 6:00 pm |
| Tue | 9:30 am - 6:00 pm |
| Wed | 9:30 am - 6:00 pm |
| Thu | 9:30 am - 6:00 pm |
| Fri | 9:30 am - 6:00 pm |
| Sat | 9:30 am - 5:00 pm |
access hours
| | |
| --- | --- |
| Sun | 6:00 am - 5:00 pm |
| Mon | 6:00 am - 6:00 pm |
| Tue | 6:00 am - 6:00 pm |
| Wed | 6:00 am - 6:00 pm |
| Thu | 6:00 am - 6:00 pm |
| Fri | 6:00 am - 6:00 pm |
| Sat | 6:00 am - 5:00 pm |
Facility's fees & requirements
Facility Administration Fee: $29.00
Security Deposit: Security deposit required
About this facility
When it comes to cheap self storage along I-880, this Fremont Public Storage is hard to beat. Sitting on the east side of Interstate 880, just north of the Baylands area, this location offers rental storage units in several different sizes, many of which are outdoor storage units with drive-up capability. There are also indoor storage units with entry from inside the building. A 5x10 storage unit can be the perfect place to store recreational items, from golf clubs and golf gear for trips to Fremont Park Golf Course; to hiking boots and backpacks for daytrips out to Little Yosemite. A few minutes north of the Tesla Factory, companies throughout the Tri-City area can always use some extra space. Business owners can take advantage of a 10x15 storage unit to pack up extra desks, filing cabinets, old office chairs or office equipment, and breathe easy knowing it's all in one place nearby. Meanwhile, when a major life change means it's time to pack up the whole house near the Mission San Jose area, a 10x30 storage unit provides enough space to store everything inside several bedrooms, the living room, the dining room and kitchen, with room for appliances too. The storage area has a keypad for customers to enter an access code. Public Storage is committed to offering affordable storage solutions to residential and business customers throughout the Fremont area.
Public Storage - Fremont - 4444 Enterprise Street
Customer reviews
1 - 5 out of 13 reviews
So far so good
First must fir A buck plus the lock plus the insurance cost 50 bucks nothing special nobody special
RecommendedYes
Price3/5 (fair price)
Service3/5 (helpful)
Cleanliness3/5 (average)
- Robert staats
Easy process to reserve and move in
Easy process to reserve and move in, price was reasonable for the space needed
- Larry
It was easy to close one account and...
It was easy to close one account and open another. We downsized from a large storage to a much smaller unit. There was no hassle. I was on a schedule. And it worked out perfectly.
- Christy Foster
Very clean
Very clean, professional and you get what you need....
- Mike Kalvig
Thank you Daniela for your service. I loved her Public Storage assistance.
- Gloria Pineda
REVIEWS SUMMARY
4% of respondents would recommend this facility to a friend.