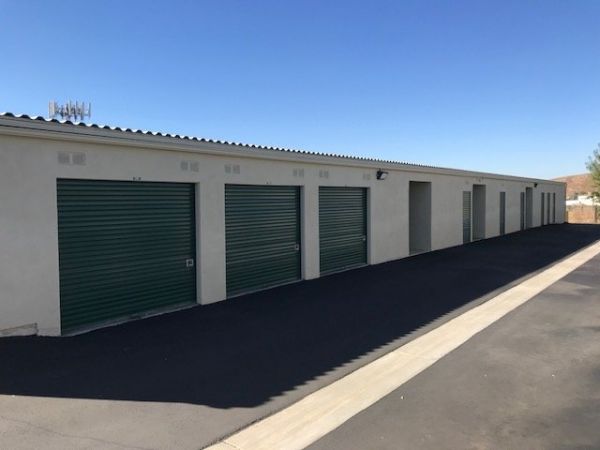 Make a risk free reservation at
A Storage Place - Grand Terrace
Features & amenities
Access
Electronic gate access
Handcarts available
Administration
Admin fee: $24.00
Spanish speaking managers
On site office at facility
Moving
Truck rental available
Moving supplies for sale
Vehicle Storage Requirements
Requires registration
Requires insurance
Must be drivable
Security Features
Video cameras on site
Fenced & Lighted
Manager lives on-site
Premium Services (may include additional cost)
Dump station available
Water
Property Coverage
Insurance required
Insurance available
Homeowners/Renters insurance accepted
Discounts
10% Military discount (applies to active-duty, reserves only)
10% Senior discount
10% Student discount
Billing
Email billing available
Rent due on same day each month per lease start
Auto-pay available
Cash accepted
Checks accepted
Credit cards accepted: Visa, Mastercard, AMEX, Discover
office hours
| | |
| --- | --- |
| Sun | 8:00 am - 5:00 pm |
| Mon | 8:00 am - 5:00 pm |
| Tue | 8:00 am - 5:00 pm |
| Wed | 8:00 am - 5:00 pm |
| Thu | 8:00 am - 5:00 pm |
| Fri | 8:00 am - 5:00 pm |
| Sat | 8:00 am - 5:00 pm |
access hours
| | |
| --- | --- |
| Sun | 5:00 am - 8:00 pm |
| Mon | 5:00 am - 8:00 pm |
| Tue | 5:00 am - 8:00 pm |
| Wed | 5:00 am - 8:00 pm |
| Thu | 5:00 am - 8:00 pm |
| Fri | 5:00 am - 8:00 pm |
| Sat | 5:00 am - 8:00 pm |
Facility's fees & requirements
Facility Administration Fee: $24.00
Security Deposit: Security deposit required
About this facility
A Storage Place in Grand Terrace, CA is one of 29 family-owned and operated storage facilities in the southwestern U.S. We offer exceptionally clean and secure storage units, with drive up convenience, to Grand Terrace area residents and business owners. We have resident managers who live on property and take great pride in maintaining and securing the grounds. Customer service is our strong point, with the friendliest of staff and a desire to provide our tenants with the very best moving and storage experience. Our facility security is state-of-the-art. Rest assured, when you need a storage unit solution in Grand Terrace, we have you covered in every way. Feel free to drop by for a tour of our facility.
A Storage Place - Grand Terrace
Customer reviews
26 - 27 out of 27 reviews
Fast, local and excellent prices!
The company that partnered with A-storage didn't advise I'd be paying 2 months up front as well as being forced to pay & keep insurance for 2 months if I didn't have my personal renters insurance policy at the time of contract commencement and needing immediate use of the storage
RecommendedYes
Price5/5 (excellent value)
Service5/5 (outstanding)
Cleanliness5/5 (squeaky clean)
- Ross
still under construction
Nice people. Not so sure about security. Has a fence but gate is still under construction and gravel roads.
RecommendedYes
Price3/5 (fair price)
Service3/5 (helpful)
Cleanliness3/5 (average)
- Rene
REVIEWS SUMMARY
100% of respondents would recommend this facility to a friend.
Pros
Good Service(24)
Clean(24)
Good Value(21)