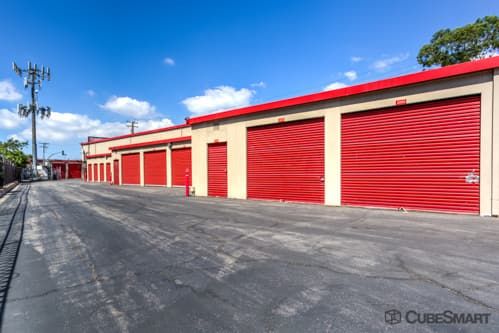 Make a risk free reservation at
CubeSmart Self Storage - Long Beach
Features & amenities
Access
Electronic gate access
Handcarts available
Administration
Admin fee: $29.00
Spanish speaking managers
Vehicle Storage Requirements
Requires registration
Requires insurance
Vehicle requires title
Must be drivable
Security Features
Video cameras on site
Fenced & Lighted
Manager lives on-site
Property Coverage
Insurance required
Insurance available
Homeowners/Renters insurance accepted
Discounts
5% Military discount (applies to active-duty only)
Billing
Email billing available
Rent due on same day each month per lease start
Auto-pay available
Cash accepted
Checks accepted
Credit cards accepted: Visa, Mastercard, AMEX, Discover
office hours
| | |
| --- | --- |
| Sun | closed |
| Mon | 9:30 am - 6:00 pm |
| Tue | 9:30 am - 6:00 pm |
| Wed | 9:30 am - 6:00 pm |
| Thu | 9:30 am - 6:00 pm |
| Fri | 9:30 am - 6:00 pm |
| Sat | 8:30 am - 5:00 pm |
access hours
| | |
| --- | --- |
| Sun | 6:00 am - 10:00 pm |
| Mon | 6:00 am - 10:00 pm |
| Tue | 6:00 am - 10:00 pm |
| Wed | 6:00 am - 10:00 pm |
| Thu | 6:00 am - 10:00 pm |
| Fri | 6:00 am - 10:00 pm |
| Sat | 6:00 am - 10:00 pm |
Facility's fees & requirements
Facility Administration Fee: $29.00
Security Deposit: Security deposit required
About this facility
CubeSmart Self Storage is committed to providing our customers with excellent products, facilities, and customer service. Our customers enjoy many perks including moving services, packing & shipping supplies, storage customization, and business services - along with the best discounts in the industry!
CubeSmart Self Storage - Long Beach
Customer reviews
66 - 70 out of 82 reviews
very cheap price so i got what I paid for
this is a nice facility and my time spent there was great, but when I went to remove my things there were a lot of my belongings missing and when I told the staff member she just said she was so sorry that happen to me.wtf.
RecommendedNo
Price4/5 (good value)
Service2/5 (somewhat unhelpful)
Cleanliness3/5 (average)
- Zella
IT'S UNREAL
It agree 95% with the previous negative statements that has already been written. I wish I would have notice the negative comments before I decided to give them a penny of my money. I should have followed my first mind, when I visit the site 2 times in one day and the manager was not there, just note on the door. They are very unprofessional, their units are someone cheaper, however they are nasty, don not fix a damn thing, I suppose it's my job to fix their unit, or perhaps it's just better to move and ask for a refund, prorated of course. It's better to pay a little extra and deal with professional folk instead of DD, you know what I mean.
RecommendedNo
Price2/5 (a little steep)
Service1/5 (very unhelpful)
Cleanliness1/5 (very dirty)
- Connie
HORRIBLE - BURGLARY WITHIN A WEEK
I needed a storage unit for only a week. I figured this place would work. The price was fine and it was off the freeway. I stored my belongings, locked the unit and left. I came back after a few days to check on the unit and get an item. Everything was OK. I came back a 4 days later to move out of the unit and into my apartment. My storage unit had been broken into and ALL of my electronics were stolen, along with many other valuable items. The manager rolled her eyes and said this happens all the time. The Long Beach Police Department officer said that his dept. is at this location almost EVERY DAY dealing with this issue. STAY away unless you want your stuff to be stolen.
RecommendedNo
Price3/5 (fair price)
Service3/5 (helpful)
Cleanliness2/5 (somewhat dirty)
- Kellan
Still
recently bought a storage space through an online auction in which place the pictures of the unit and close the auction to a safe place which has a number of security is that when I went by things were not the same as the photos and had moved things around and missing things and the possibility of information from the old owner and when we speak to head office only say they will call back I think it should be taken seriously.
RecommendedNo
Price1/5 (unfair price)
Service1/5 (very unhelpful)
Cleanliness1/5 (very dirty)
- Christine
Very helpful staff
I originally wanted a 6 x 12' which was mismarked and turned out to be 5 x 12 by measuring tape. So I rented a 6 x 10 for about $15/month less, and the staff helped me select it and apologized for the mistake. I'm moving and need to temporarily store a 1 Bdrm apt. I already have a 5 x 10 at Extra Space and pay about $30 / month more than the 6 x 12 at Cubesmart, so I'm renting another 5x10 at Cubesmart, and I'm going to move the other things out of Extra Space (about half a mile away). Two 5 x 10 units cost about the same as one 10 x 10 unit, but it's a LOT easier to find things when you have two 5 x 10 vs. one 10 x 10.......
RecommendedYes
Price3/5 (fair price)
Service5/5 (outstanding)
Cleanliness3/5 (average)
- Michael Bradley
REVIEWS SUMMARY
91% of respondents would recommend this facility to a friend.
Pros
Good Value(55)
Good Service(68)
Clean(59)
Cons
Dirty(8)
Poor Service(5)
Expensive(4)