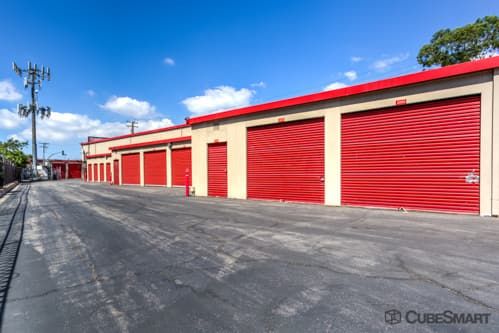 Make a risk free reservation at
CubeSmart Self Storage - Long Beach
Features & amenities
Access
Electronic gate access
Handcarts available
Administration
Admin fee: $29.00
Spanish speaking managers
Vehicle Storage Requirements
Requires registration
Requires insurance
Vehicle requires title
Must be drivable
Security Features
Video cameras on site
Fenced & Lighted
Manager lives on-site
Property Coverage
Insurance required
Insurance available
Homeowners/Renters insurance accepted
Discounts
5% Military discount (applies to active-duty only)
Billing
Email billing available
Rent due on same day each month per lease start
Auto-pay available
Cash accepted
Checks accepted
Credit cards accepted: Visa, Mastercard, AMEX, Discover
office hours
| | |
| --- | --- |
| Sun | closed |
| Mon | 9:30 am - 6:00 pm |
| Tue | 9:30 am - 6:00 pm |
| Wed | 9:30 am - 6:00 pm |
| Thu | 9:30 am - 6:00 pm |
| Fri | 9:30 am - 6:00 pm |
| Sat | 8:30 am - 5:00 pm |
access hours
| | |
| --- | --- |
| Sun | 6:00 am - 10:00 pm |
| Mon | 6:00 am - 10:00 pm |
| Tue | 6:00 am - 10:00 pm |
| Wed | 6:00 am - 10:00 pm |
| Thu | 6:00 am - 10:00 pm |
| Fri | 6:00 am - 10:00 pm |
| Sat | 6:00 am - 10:00 pm |
Facility's fees & requirements
Facility Administration Fee: $29.00
Security Deposit: Security deposit required
About this facility
CubeSmart Self Storage is committed to providing our customers with excellent products, facilities, and customer service. Our customers enjoy many perks including moving services, packing & shipping supplies, storage customization, and business services - along with the best discounts in the industry!
CubeSmart Self Storage - Long Beach
Customer reviews
76 - 80 out of 84 reviews
The young man who took care of the paper work said he would sweep out the unit but when I got there 2 days later it was still dirty and dusty. The lock I had would not fit on one of the unit doors so I had to put the stuff in the second unit I will be going to discuss the unit with the management people soon.
RecommendedYes
Price4/5 (good value)
Service3/5 (helpful)
Cleanliness2/5 (somewhat dirty)
- Terri
unsafe, storage dirty,
Below satisfactory. About to sign the paper after the tour.Customer walk in with whole piece lock.His unit got clean up and stole all his tools.I immediately cancel and walk away.
RecommendedNo
Price3/5 (fair price)
Service3/5 (helpful)
Cleanliness3/5 (average)
- Roy Mercado
The customers that are renting storage leave trash in front of the storage and know one cleans up. I have been renting for almost one week and the trash is still there. Also I don't like the fact that I have seen people fixing cars inside also I have seen a man try to fix tv's and he leaves them outside his storage. That makes this place look very dirty and messy with No rules.
RecommendedYes
Price3/5 (fair price)
Service4/5 (very helpful)
Cleanliness1/5 (very dirty)
- Veronica
RecommendedYes
Price5/5 (excellent value)
Service5/5 (outstanding)
Cleanliness4/5 (clean)
- Maria
Great promotional price!
Rented this unit with a "first month's free" promotion. However, you still pay a $22 processing fee and once you get there, they charge an additional $10 for insurance which they said is mandatory. Besides that, great price overall. I only needed it for one month, so I scored. Oh, plus they let you use their moving truck for free to move your stuff in. They just need $100 deposit and you get it right back when you return the truck :-) Pretty cool bonus!
RecommendedYes
Price4/5 (good value)
Service4/5 (very helpful)
Cleanliness3/5 (average)
- Serenity
REVIEWS SUMMARY
92% of respondents would recommend this facility to a friend.
Pros
Good Value(57)
Good Service(70)
Clean(61)
Cons
Dirty(8)
Poor Service(5)
Expensive(4)