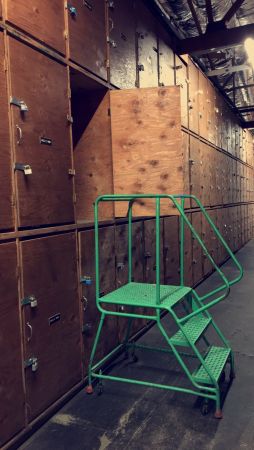 Make a risk free reservation at
Los Angeles Fine Arts & Wine Storage
Features & amenities
Access
Electronic gate access
Handcarts available
Administration
Admin fee: $35.00
Spanish/Romanian speaking managers
Accepts mail/packages for tenants
On site office at facility
Vehicle Storage Requirements
Requires registration
Requires insurance
Must be drivable
Security Features
Video cameras on site
Fenced & Lighted
Billing
Email billing available
Rent due on same day each month per lease start
Auto-pay available
Cash accepted
Checks accepted
Credit cards accepted: Visa, Mastercard, AMEX, Discover
Other
Paperwork can be done remotely
office hours
| | |
| --- | --- |
| Sun | closed |
| Mon | 9:00 am - 6:00 pm |
| Tue | 9:00 am - 6:00 pm |
| Wed | 9:00 am - 6:00 pm |
| Thu | 9:00 am - 6:00 pm |
| Fri | 9:00 am - 6:00 pm |
| Sat | 9:00 am - 6:00 pm |
access hours
| | |
| --- | --- |
| Sun | closed |
| Mon | 9:00 am - 6:00 pm |
| Tue | 9:00 am - 6:00 pm |
| Wed | 9:00 am - 6:00 pm |
| Thu | 9:00 am - 6:00 pm |
| Fri | 9:00 am - 6:00 pm |
| Sat | 9:00 am - 6:00 pm |
Facility's fees & requirements
Facility Administration Fee: $35.00
Security Deposit: Security deposit required
Los Angeles Fine Arts & Wine Storage
Customer reviews
1 - 1 out of 1 reviews
Why I like Los Angeles Fine Art & Wine Storage.
I am a 13 year customer of Los Angeles Fine Arts & Wine Storage. Recently, I had occasion to need more storage. I didn't think twice. I signed on with these guys. As usual, the folks at the facility were helpful, went through the paperwork quickly, efficiently and provided extra help. The facility is kept very clean and, of course, the temperature controlled environment is a real plus if you are storing art, wine or filmed materials. I really like the people who work there.
RecommendedYes
Price3/5 (fair price)
Service4/5 (very helpful)
Cleanliness5/5 (squeaky clean)
- ROBERT ALLAN BLACK
REVIEWS SUMMARY
100% of respondents would recommend this facility to a friend.
Pros
Good Service(1)
Clean(1)