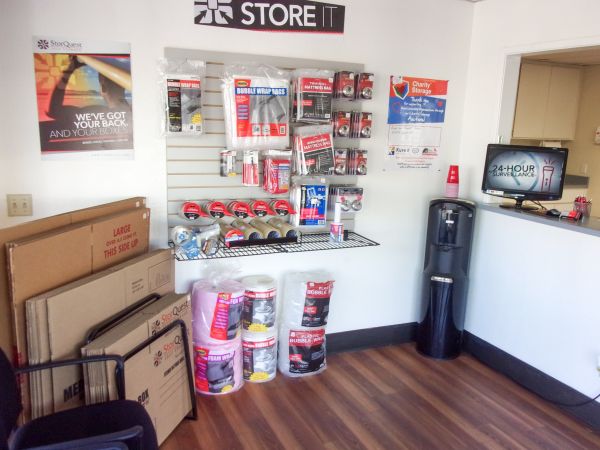 Make a risk free reservation at
StorQuest - Los Banos/Mercey Springs
Features & amenities
Administration
Admin fee: $25.00
Accepts mail/packages for tenants
On site office at facility
Security Features
Video cameras on site
Fenced & Lighted
Property Coverage
Insurance required
Insurance available
Homeowners/Renters insurance accepted
Discounts
10% Military discount (applies to active-duty only)
Billing
Email billing available
Rent due on same day each month per lease start
Auto-pay available
Cash accepted
Checks accepted
Credit cards accepted: Visa, Mastercard, AMEX, Discover
office hours
| | |
| --- | --- |
| Sun | 9:00 am - 5:30 pm |
| Mon | 9:00 am - 5:30 pm |
| Tue | 9:00 am - 5:30 pm |
| Wed | 9:00 am - 5:30 pm |
| Thu | 9:00 am - 5:30 pm |
| Fri | 9:00 am - 5:30 pm |
| Sat | 9:00 am - 5:30 pm |
access hours
| | |
| --- | --- |
| Sun | 7:00 am - 7:00 pm |
| Mon | 7:00 am - 7:00 pm |
| Tue | 7:00 am - 7:00 pm |
| Wed | 7:00 am - 7:00 pm |
| Thu | 7:00 am - 7:00 pm |
| Fri | 7:00 am - 7:00 pm |
| Sat | 7:00 am - 7:00 pm |
Facility's fees & requirements
Facility Administration Fee: $25.00
Security Deposit: Security deposit required
About this facility
At StorQuest Self Storage it is our guiding belief that self storage should be easy. In fact, our business model is built on it. Our Mercey Springs facility is not only conveniently located, it also features great access hours. We specialize in both traditional and commercial self storage. Storage units here at StorQuest Self Storage in Los Banos range in size from 5'X10' to 10'X30'. We believe in letting you decide just how much space you will need and for how long you will need it. We offer month-to-month rentals and all tenants are eligible for online bill pay. Have a question? Our friendly and professional staff is on-site seven days a week to assist you in the decision making process. Unit number will be confirmed upon move-in.
StorQuest - Los Banos/Mercey Springs
Customer reviews
1 - 1 out of 1 reviews
Storage Facility and staff was great!
The facility was clean, office was clean and efficient employee who checked me in. I was taken back at a couple of extra charges that I wasn't aware of like mandatory insurance and admin fee but for the availability of a storage unit, I was pleased.
RecommendedYes
Price5/5 (excellent value)
Service5/5 (outstanding)
Cleanliness5/5 (squeaky clean)
- Pamela Mewborn
REVIEWS SUMMARY
100% of respondents would recommend this facility to a friend.
Pros
Good Value(1)
Good Service(1)
Clean(1)