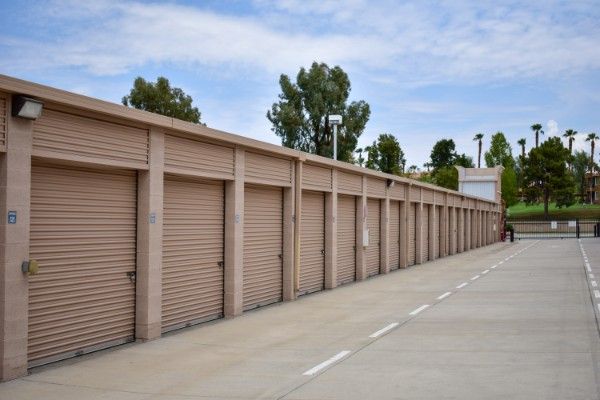 Make a risk free reservation at
STOR-N-LOCK Self Storage - Palm Desert - Palm Springs Area
Features & amenities
Access
Electronic gate access
Elevator available
Handcarts available
Administration
Admin fee: $20.00
Accepts mail/packages for tenants
On site office at facility
Vehicle Storage Requirements
Requires registration
Requires insurance
Must be drivable
Security Features
Video cameras on site
Fenced & Lighted
Manager lives on-site
Property Coverage
Insurance required
Homeowners/Renters insurance accepted
Discounts
5% Military discount (applies to active-duty only)
Billing
Email billing available
Rent due on 1st of each month
Auto-pay available
Cash accepted
Checks accepted
Credit cards accepted: Visa, Mastercard, AMEX, Discover
Other
Paperwork can be done remotely
office hours
| | |
| --- | --- |
| Sun | 10:00 am - 2:00 pm |
| Mon | 9:00 am - 6:00 pm |
| Tue | 9:00 am - 6:00 pm |
| Wed | 9:00 am - 6:00 pm |
| Thu | 9:00 am - 6:00 pm |
| Fri | 9:00 am - 6:00 pm |
| Sat | 9:00 am - 6:00 pm |
access hours
| | |
| --- | --- |
| Sun | 6:00 am - 10:00 pm |
| Mon | 6:00 am - 10:00 pm |
| Tue | 6:00 am - 10:00 pm |
| Wed | 6:00 am - 10:00 pm |
| Thu | 6:00 am - 10:00 pm |
| Fri | 6:00 am - 10:00 pm |
| Sat | 6:00 am - 10:00 pm |
Facility's fees & requirements
Facility Administration Fee: $20.00
Security Deposit: Security deposit required
About this facility
STOR-N-LOCK PALM DESERT is a popular storage location with 1,146 units of which 530 are climate controlled units. We have many sizes including 5x5, 5x10, 10x7.5, 10x10, 10x15, 10x20, 10x25 and most are drive up spaces. Security & Other Benefits include: √ Video Surveillance √ Safe, Controlled Gate Access √ Alarms on Every Door √ Your Lock, Your Key √ A/C, Climate Controlled Spaces √ Military and Senior Discounts Compare with our competition: √ Affordable prices, √ Internet & Website specials, √ Online payment program, √ Online Reservations, and √ We accept most credit cards. Certified, friendly, trained resident managers help make your move easy. Our Spaces are clean and ready to move in. Open seven days a week with easy access from I-10, Highway 111 and Cook St. Next to the Hovley Lane Post Office and Marriott Desert Springs Resort. Serving Palm Desert, Indian Wells, Rancho Mirage, USC, CalState. Providing our happy customers with peace of mind and a comfortable storage experience since 2001, you'll be happy that you chose Stor-n-Lock Self Storage.
STOR-N-LOCK Self Storage - Palm Desert - Palm Springs Area
Customer reviews
1 - 2 out of 2 reviews
Great customer service from Eco
Eco,is the reason I am at your storage company!! I called the phone number on your site regarding the unit available and special price offered. Mary, reserved it for me. What she DIDN'T tell me was that I would have to pay for the 3 month special all at once in advance!! She just told me what each month would cost. I am on a limited Social Security income and unable to pay in advance for 3 months...this should have been told to me by Mary, who is with the company that reserves the unit for me. This is FRAUDULENT ADVERTISING!! I found out about this special offer when I arrived at the storage unit facility!! Fortunately a fine gentleman Eco, cares about his customers and knows the meaning of GREAT CUSTOMER SERVICE and found a plan better suited for me!! He is the reason I decided to take the unit at your storage company!!
RecommendedYes
Price3/5 (fair price)
Service3/5 (helpful)
Cleanliness3/5 (average)
- Jaclyn Rogers
Excellent staff
Excellent service. Easy to locate storage unit. Staff was very helpful.
RecommendedYes
Price4/5 (good value)
Service5/5 (outstanding)
Cleanliness5/5 (squeaky clean)
- rick
REVIEWS SUMMARY
100% of respondents would recommend this facility to a friend.
Pros
Good Value(1)
Good Service(1)
Clean(1)