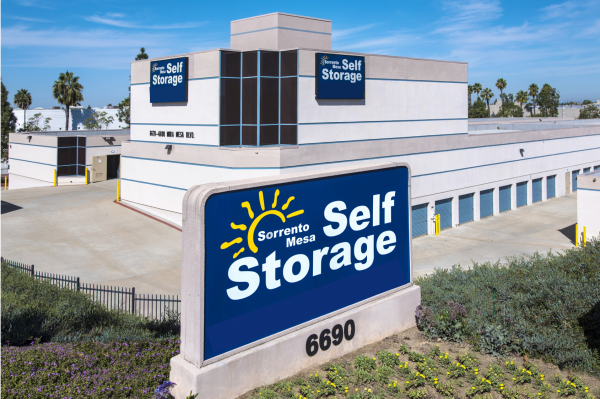 Make a risk free reservation at
Sorrento Mesa Self Storage
Features & amenities
Access
Electronic gate access
Handcarts available
Administration
Admin fee: $20.00
Accepts mail/packages for tenants
On site office at facility
Moving
Free use of truck (10 mile limit)
Moving supplies for sale
Vehicle Storage Requirements
Requires registration
Requires insurance
Vehicle requires title
Must be drivable
Security Features
Video cameras on site
Fenced & Lighted
Manager lives on-site
Property Coverage
Insurance required
Protection plan required
Protection plan available
Homeowners/Renters insurance accepted
Discounts
10% Military discount (applies to active-duty only)
5% Senior discount
10% Student discount
Billing
Email billing available
Rent due on same day each month per lease start
Auto-pay available
Cash accepted
Checks accepted
Credit cards accepted: Visa, Mastercard, AMEX
office hours
| | |
| --- | --- |
| Sun | closed |
| Mon | closed |
| Tue | closed |
| Wed | closed |
| Thu | closed |
| Fri | closed |
| Sat | closed |
access hours
| | |
| --- | --- |
| Sun | closed |
| Mon | closed |
| Tue | closed |
| Wed | closed |
| Thu | closed |
| Fri | closed |
| Sat | closed |
Facility's fees & requirements
Facility Administration Fee: $20.00
Security Deposit: Security deposit required
About this facility
Sorrento Mesa Self Storage is located on the corner of Mira Mesa Blvd and Viper Way. Our easy to access facility allows us to help you with your storage needs, regardless if storage is needed for your personal possessions or for your business needs. Sorrento Mesa Self Storage provides exceptionally clean and convenient self-storage in San Diego with units from a small size of 5'x5' (25 square feet) to our largest exterior unit 10'x35' (350 square feet). We have the largest percentage of exterior self-storage units of any facility in San Diego, allowing drive up access and loading of your storage space. In addition, we offer specialty storage including climate-controlled storage units. We offer a FREE move-in truck, and it comes with a driver and gas included. All you need to do is load and unload your belongings from the truck. Sorrento Mesa Self Storage also provides a "1st Year Price Guarantee," which is unique in our industry and guarantees we will not raise your rates during the first year of your stay (our lease is month-to-month). Sorrento Mesa Self Storage is part of the San Diego Self Storage family, which is a locally owned and operated network of neighborhood self-storage facilities located throughout San Diego County. Customer service is our highest priority, and over 40% of our customers come from referrals or repeat customers. Come see why San Diego Business Journal ranked us as the "#1 self-storage operator in San Diego County" and why we've been voted the "Best Storage Company" for many years running in the San Diego Union Tribune Readers Poll!
Sorrento Mesa Self Storage
Customer reviews
1 - 5 out of 7 reviews
Great experience!
I was dreading having to move some things into storage but the personnel here made it almost a pleasant experience. Everything went smoothly....the facility was clean, the people were so nice and I'm very happy to do business with them.
RecommendedYes
Price5/5 (excellent value)
Service5/5 (outstanding)
Cleanliness5/5 (squeaky clean)
- Michelle
Professional and Helpful
We are using this facility for the second year in a row. They are great.
RecommendedYes
Price5/5 (excellent value)
Service5/5 (outstanding)
Cleanliness5/5 (squeaky clean)
- Jean
The man who booked our unit was very helpful. However, the manager, Julian, was VERY rude. He drove the truck and acted as though we were inconveniencing him while we were loading it. There is clearly very little communication between him and his employees. We were out of range for the truck, but, when we booked the storage unit they said they were willing to allow us to use it. Julian, however, acted like it was our fault for this miscommunication. In addition, it was NEVER mentioned that we would only be allowed to have the truck for one hour. The truck was about an hour late for pick up and the manager acted angry the entire time he was sitting in the front seat while we loaded it. To top it off, he lied and said he had to go to another pick up, and finally admitted, an hour later, that they other site had "cancelled". We will be storing our stuff there for a prolonged period of time and I feel as though they do not respect, nor care about their customers. I will NEVER recommend this facility to anyone. Nor will I ever use it again.
RecommendedNo
Price4/5 (good value)
Service1/5 (very unhelpful)
Cleanliness3/5 (average)
- Katie
Professional public interaction, quick and friendly registration
Helpful at all stages, always friendly and accommodating. Great in and out service. Attentive follow-up.
RecommendedYes
Price5/5 (excellent value)
Service5/5 (outstanding)
Cleanliness5/5 (squeaky clean)
- Donn
Access is very easy and the people are very very nice and I would recommend it , I do wish it was a little cheaper
RecommendedYes
Price2/5 (a little steep)
Service5/5 (outstanding)
Cleanliness5/5 (squeaky clean)
- Keith
REVIEWS SUMMARY
86% of respondents would recommend this facility to a friend.
Pros
Good Value(5)
Good Service(6)
Clean(6)
Cons
Poor Service(1)
Expensive(1)