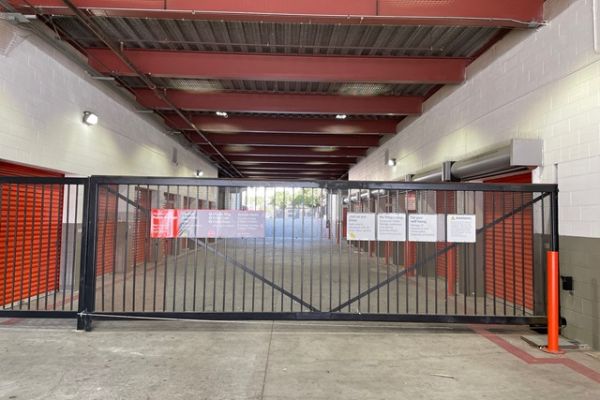 Make a risk free reservation at
Public Storage - San Francisco - 99 S Van Ness Ave
Features & amenities
Access
Electronic gate access
Elevator available
Vehicle Storage Requirements
Requires registration
Requires insurance
Vehicle requires title
Must be drivable
Property Coverage
Insurance required
Insurance available
Homeowners/Renters insurance accepted
Billing
Email billing available
First of month
Auto-pay available
Cash accepted
Checks accepted
Credit cards accepted: Visa, AMEX, Mastercard, Discover
office hours
| | |
| --- | --- |
| Sun | 9:30 am - 5:00 pm |
| Mon | 9:30 am - 6:00 pm |
| Tue | 9:30 am - 6:00 pm |
| Wed | 9:30 am - 6:00 pm |
| Thu | 9:30 am - 6:00 pm |
| Fri | 9:30 am - 6:00 pm |
| Sat | 9:30 am - 5:00 pm |
access hours
| | |
| --- | --- |
| Sun | 9:30 am - 5:00 pm |
| Mon | 9:30 am - 6:00 pm |
| Tue | 9:30 am - 6:00 pm |
| Wed | 9:30 am - 6:00 pm |
| Thu | 9:30 am - 6:00 pm |
| Fri | 9:30 am - 6:00 pm |
| Sat | 9:30 am - 5:00 pm |
Facility's fees & requirements
Facility Administration Fee: $24.00
Security Deposit: Security deposit required
About this facility
This San Francisco Public Storage, located in the South of Market area, features cheap self storage in a convenient location. Right off of U.S. Highway 101 and a few blocks west of Interstate 80, this SoMa property offers a large selection of indoor storage units and climate controlled storage units in various shapes and sizes. For customers looking for drive-up, outdoor storage units, this property also offers a number of those. Roughly one mile south of City Hall, high-rise and apartment residents near Rincon Hill can use a 5x10 storage unit to store bulky recreational items, including kayaks, paddleboards, surfboards or even exercise equipment that may be in the way at home. A 10x15 storage unit can be a huge help for families in Hayes Valley or Potrero Hill who need somewhere to pack away several boxes along with old bedroom furniture or a couch and recliner that need to be moved. Getting ready to renovate a townhome or condo near Lower Haight? Grab a 10x30 storage unit to store everything from the living room, kitchen and multiple bedrooms until it's time to move back in. The professionally trained staff is on hand 7 days a week to assist with storage rentals or the purchase of moving supplies, such as bubble wrap, moving boxes and wrapping paper for delicate items. This property is a prime location, just minutes from some of the most popular attractions in the area, including Fisherman's Wharf, AT&T Park and iconic music venues like The Warfield and Bill Graham Civic Auditorium, not to mention corporate headquarters for companies like Twitter and Uber. It's no secret that space comes at a premium in the downtown San Francisco area, and that's why Public Storage is pleased to offer cheap storage units and friendly customer service throughout the year.
Public Storage - San Francisco - 99 S Van Ness Ave
Customer reviews
11 - 15 out of 26 reviews
Thank you for great service!
Thank you for great service!
- Bryan Collins
I've been storing here for years... ask for Al, he rocks. Always helpful, polite, friendly and pleasant. Super helpful :)
- Sandra Giha
These guys are there to serve the customer ask politely and they will help you in a professional manner they are storage pros I highly recommend AL and Slise they helped me with my storage needs . Thanks guys
- MrIbaracuda
Good security safe place too store your belongings.
- Eugene Barrios
Pricing policies unfair & unit measurements inaccurate
I had an urgent need to store my belongings, and placed my order online in order to achieve the lowest cost possible. The web site showed that the space cost a certain amount, and was a certain size. However, the web site only showed the length and width of the unit, not the height. When I called to find out the height of the unit, I was told that the ceiling is more than 10 feet high. It turns out that is not the case. I brought a tape measure with me, and there was chicken wire installed to keep the ceiling at 8.5 feet. Furthermore, it turns out that the sizing is an estimate. The unit was actually smaller than advertised. I would have no problem if the unit was actually bigger than advertised, but apparently Public Storage is the kind of company that wishes to take advantage of people. If they actually cared about their customers, then they would advertise their units as smaller than they actually are, instead of larger than they actually are. After choosing a specific unit to rent, I decided to change my reservation the next day. To my dismay, the prices had increased. I was given an excuse about pricing being based on demand. Somehow I doubt that to be true, because if so, then prices would decline when demand decreases. Coming from a new customer who is unfamiliar with how the company operates, and has an urgent need to rent for the first time, it feels incredibly rude for the company to not give clear details about each unit, and the pricing changes leave me with the sense that the company doesn't actually care about me. I understand that Public Storage is a business, but businesses should exist to serve their customers, not take advantage of them for the sake of maximizing profit.
- Curtis Gammill
REVIEWS SUMMARY
4% of respondents would recommend this facility to a friend.
Pros
Good Value(3)
Good Service(2)
Clean(2)
Cons
Poor Service(1)
Dirty(1)