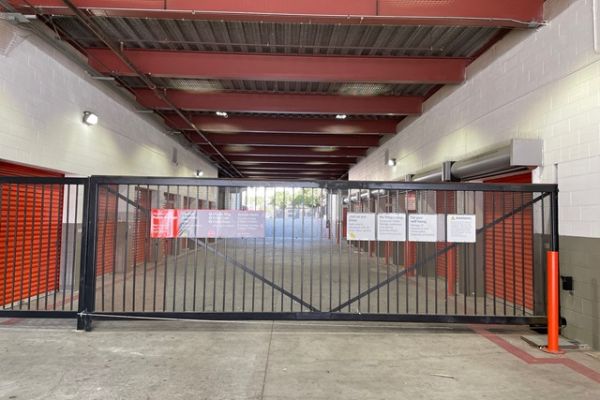 Make a risk free reservation at
Public Storage - San Francisco - 99 S Van Ness Ave
Features & amenities
Access
Electronic gate access
Elevator available
Vehicle Storage Requirements
Requires registration
Requires insurance
Vehicle requires title
Must be drivable
Property Coverage
Insurance required
Insurance available
Homeowners/Renters insurance accepted
Billing
Email billing available
First of month
Auto-pay available
Cash accepted
Checks accepted
Credit cards accepted: Visa, AMEX, Mastercard, Discover
office hours
| | |
| --- | --- |
| Sun | 9:30 am - 5:00 pm |
| Mon | 9:30 am - 6:00 pm |
| Tue | 9:30 am - 6:00 pm |
| Wed | 9:30 am - 6:00 pm |
| Thu | 9:30 am - 6:00 pm |
| Fri | 9:30 am - 6:00 pm |
| Sat | 9:30 am - 5:00 pm |
access hours
| | |
| --- | --- |
| Sun | 9:30 am - 5:00 pm |
| Mon | 9:30 am - 6:00 pm |
| Tue | 9:30 am - 6:00 pm |
| Wed | 9:30 am - 6:00 pm |
| Thu | 9:30 am - 6:00 pm |
| Fri | 9:30 am - 6:00 pm |
| Sat | 9:30 am - 5:00 pm |
Facility's fees & requirements
Facility Administration Fee: $24.00
Security Deposit: Security deposit required
About this facility
This San Francisco Public Storage, located in the South of Market area, features cheap self storage in a convenient location. Right off of U.S. Highway 101 and a few blocks west of Interstate 80, this SoMa property offers a large selection of indoor storage units and climate controlled storage units in various shapes and sizes. For customers looking for drive-up, outdoor storage units, this property also offers a number of those. Roughly one mile south of City Hall, high-rise and apartment residents near Rincon Hill can use a 5x10 storage unit to store bulky recreational items, including kayaks, paddleboards, surfboards or even exercise equipment that may be in the way at home. A 10x15 storage unit can be a huge help for families in Hayes Valley or Potrero Hill who need somewhere to pack away several boxes along with old bedroom furniture or a couch and recliner that need to be moved. Getting ready to renovate a townhome or condo near Lower Haight? Grab a 10x30 storage unit to store everything from the living room, kitchen and multiple bedrooms until it's time to move back in. The professionally trained staff is on hand 7 days a week to assist with storage rentals or the purchase of moving supplies, such as bubble wrap, moving boxes and wrapping paper for delicate items. This property is a prime location, just minutes from some of the most popular attractions in the area, including Fisherman's Wharf, AT&T Park and iconic music venues like The Warfield and Bill Graham Civic Auditorium, not to mention corporate headquarters for companies like Twitter and Uber. It's no secret that space comes at a premium in the downtown San Francisco area, and that's why Public Storage is pleased to offer cheap storage units and friendly customer service throughout the year.
Public Storage - San Francisco - 99 S Van Ness Ave
Customer reviews
21 - 25 out of 26 reviews
Friendly Staff, needs map for 1100 units.
Needs a map, for my several units.
- Frank C Ambrosi
Avoid the front desk
99 Van Ness Avenue: The facility is in good enough condition, remember your computer generated code coz you'll be using it a lot! (Especially if you have to use the elevators) Very important: Only deal with Al at the front desk. That woman Elise has the biggest chip on her shoulder, she doesn't like her job and will not listen to you because she will be too busy talking (and she cannot talk and listen...) She also forgets that by us paying, she gets paid. So at least let the client explain themselves. I am considering moving out due to her attitude alone.
- Craig McGree
Really good but a few quirks
So far my experience has been good overall. Biggest down point was when I checked out a flat dolly, giving them my license while I did. When I came back the 2 girls working the office had closed up, leaving a sign that said they'd be back in twenty minutes. So even though I was done, I had to stay another 20 to get my license back! With two people working you would think one would stay in the office!
- Jenna Everman
Great Service
This is the first time I use public storage, I like the service they give me, they answer all my questions, even when we are there late they understand and kindly help us move our item, I would recommend this place to my friends and family
- John Lee
Public Storage - San Francisco
Convenient and secure but rent increases substantially each year for long term storage.
- Marke
REVIEWS SUMMARY
4% of respondents would recommend this facility to a friend.
Pros
Good Value(3)
Good Service(2)
Clean(2)
Cons
Poor Service(1)
Dirty(1)