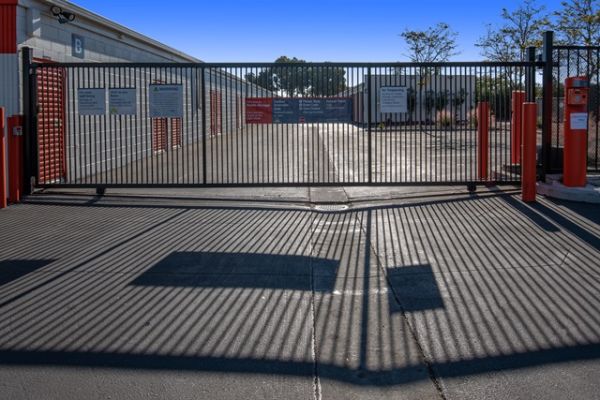 Make a risk free reservation at
Public Storage - San Jose - 150 Tully Road
Features & amenities
Access
Electronic gate access
Elevator available
Vehicle Storage Requirements
Requires registration
Requires insurance
Vehicle requires title
Must be drivable
Security Features
Fenced & Lighted
Manager lives on-site
Property Coverage
Insurance required
Insurance available
Homeowners/Renters insurance accepted
Billing
Email billing available
First of month
Auto-pay available
Cash accepted
Checks accepted
Credit cards accepted: Visa, AMEX, Mastercard, Discover
office hours
| | |
| --- | --- |
| Sun | 8:00 am - 6:00 pm |
| Mon | 8:00 am - 6:00 pm |
| Tue | 8:00 am - 6:00 pm |
| Wed | 8:00 am - 6:00 pm |
| Thu | 8:00 am - 6:00 pm |
| Fri | 8:00 am - 6:00 pm |
| Sat | 8:00 am - 6:00 pm |
access hours
| | |
| --- | --- |
| Sun | 8:00 am - 6:00 pm |
| Mon | 8:00 am - 6:00 pm |
| Tue | 8:00 am - 6:00 pm |
| Wed | 8:00 am - 6:00 pm |
| Thu | 8:00 am - 6:00 pm |
| Fri | 8:00 am - 6:00 pm |
| Sat | 8:00 am - 6:00 pm |
Facility's fees & requirements
Facility Administration Fee: $29.00
Security Deposit: Security deposit required
About this facility
Public Storage in South San Jose offers cheap self storage to South Bay customers in a convenient location. Directly east from the intersection of Monterey Street and Tully Road, this property is adjacent to the Santa Clara County Fairgrounds. With easy access from Highway 87, Almaden Expressway and U.S. Highway 101, it's only a few minutes away for customers in Willow Glen or Blossom Valley and roughly five miles from downtown San Jose. Let a 5x10 storage unit store anything from spare electronics lying around to a few sets of golf clubs for regular outings at nearby Los Lagos Golf Course. Meanwhile, a 10x15 storage unit is perfect for companies on the rise along Capitol Expressway that are in need of some extra office space for keeping equipment, supplies or inventory close to the workplace. New to town and the new place near Little Saigon isn't quite ready yet? Take advantage of the space in a large 10x30 storage unit to hold boxes, furniture and appliances until it's time to unpack. A huge selection of indoor storage units and climate controlled storage units awaits customers at this facility with sizes to handle nearly any storage load. There are also a number of outdoor storage units with drive-up access for customer convenience. The property manager lives on site and the rental office also sells moving supplies, including furniture pads, moving kits, bubble wrap and various moving boxes. Whether it's a growing family, a tech startup or a Silicon Valley titan, everyone can always use some extra space. When that time comes, look no further than this South San Jose Public Storage to provide exceptional customer service and affordable storage solutions throughout the year.
Public Storage - San Jose - 150 Tully Road
Customer reviews
1 - 5 out of 51 reviews
Review
Awesome for the price can't g wrong !
RecommendedYes
Price4/5 (good value)
Service3/5 (helpful)
Cleanliness3/5 (average)
- Darrell Lawson
Easy cheap clean
Very reasonable unit, staff is awesome
RecommendedYes
Price5/5 (excellent value)
Service5/5 (outstanding)
Cleanliness5/5 (squeaky clean)
- Rebecca Hasbrook
Too high for the service
Limited hours: 8:00am to 6:00pm - they will literally lock you in if you are 1 minute over, and threaten you, even though there is someone who lives there on site. All bathrooms are locked; you have to go to the front office if you are working in your storage and need to go. They raise your price without warning, claiming "market price" but when the market price goes down they will not lower it. So the longer you stay the more you pay. Wouldn't you think that loyal customers should get a break?
RecommendedNo
Price2/5 (a little steep)
Service2/5 (somewhat unhelpful)
Cleanliness3/5 (average)
- Sandra Lee
Super friendly and well run
Booked 2 units here after a dreadful experience at another storage company. Staff here (especially Mike) were awesome. Went out of there way to get me setup and move-in ready.
RecommendedYes
Price2/5 (a little steep)
Service3/5 (helpful)
Cleanliness3/5 (average)
- Mike Cooper
Clean and Friendly Public storage!
Very friendly and helpful staff. Very clean facility with easy access.
RecommendedYes
Price4/5 (good value)
Service5/5 (outstanding)
Cleanliness5/5 (squeaky clean)
- Ron
REVIEWS SUMMARY
16% of respondents would recommend this facility to a friend.
Pros
Good Value(11)
Good Service(11)
Clean(11)
Cons
Expensive(2)
Poor Service(1)