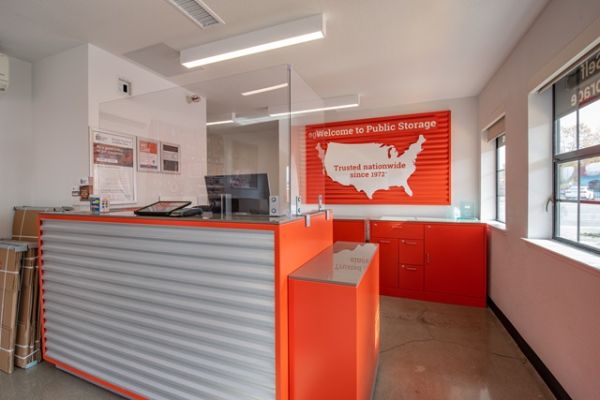 Make a risk free reservation at
Public Storage - San Lorenzo - 16025 Ashland Ave
50% off 1st Month
10' x 20' unit
Roll Up Door
Drive Up Access
Outdoor Access
1st Floor
Vehicle
Available for enclosed vehicle storage
Only 2 units left
$303.00
$378.00
per month
reserve
Features & amenities
Access
Electronic gate access
Elevator available
Vehicle Storage Requirements
Requires registration
Requires insurance
Vehicle requires title
Must be drivable
Security Features
Fenced & Lighted
Manager lives on-site
Property Coverage
Insurance required
Insurance available
Homeowners/Renters insurance accepted
Billing
Email billing available
First of month
Auto-pay available
Cash accepted
Checks accepted
Credit cards accepted: Visa, AMEX, Mastercard, Discover
office hours
| | |
| --- | --- |
| Sun | 9:30 am - 5:00 pm |
| Mon | 9:30 am - 6:00 pm |
| Tue | 9:30 am - 6:00 pm |
| Wed | 9:30 am - 6:00 pm |
| Thu | 9:30 am - 6:00 pm |
| Fri | 9:30 am - 6:00 pm |
| Sat | 9:30 am - 5:00 pm |
access hours
| | |
| --- | --- |
| Sun | 6:00 am - 9:00 pm |
| Mon | 6:00 am - 9:00 pm |
| Tue | 6:00 am - 9:00 pm |
| Wed | 6:00 am - 9:00 pm |
| Thu | 6:00 am - 9:00 pm |
| Fri | 6:00 am - 9:00 pm |
| Sat | 6:00 am - 9:00 pm |
Facility's fees & requirements
Facility Administration Fee: $29.00
Security Deposit: Security deposit required
About this facility
Sitting just south of Interstate 580, this San Lorenzo Public Storage is a great place to find self storage near Ashland. Individual storage lockers present a great option for storing a few small items, while indoor storage units and outdoor storage units come in a handful of different sizes for larger loads. A few blocks north of Edendale Middle School, let a 5x10 storage unit collect all of the family's sports gear and recreational items, from bikes and soccer cleats to paddleboards and fishing equipment. A 10x10 storage unit can be a lifesaver for businesses around the Bayfair Center that are in desperate need of some extra room to store anything from supplies to inventory to boxes of files and paperwork. For residents living in any of the apartments along Hesperian Boulevard, a 10x25 storage unit is just the place to keep an extra couch, appliance, bookcase and dresser that needs to be moved or just doesn't have enough space at home. A short distance from I-238, I-880 and right off of 14th Street, it's an easily accessible location for customers throughout this section of the East Bay, from Hayward to San Leandro and everywhere in between. For storage-related questions, help with rentals or to purchase packing supplies, speak with the friendly staff on site or the property manager who lives on the premises.
Public Storage - San Lorenzo - 16025 Ashland Ave
Customer reviews
1 - 5 out of 12 reviews
Clean and friendly staff
The staff is very friendly and helpful
RecommendedYes
Price5/5 (excellent value)
Service5/5 (outstanding)
Cleanliness5/5 (squeaky clean)
- Rita
Fast and easy rental. Thank you.
Thank you for the great price for the size of rental space I got.
RecommendedYes
Price3/5 (fair price)
Service5/5 (outstanding)
Cleanliness5/5 (squeaky clean)
- Ana
To expensive
Woman who worked the front was not friendly and spoke aggressively Considering this was my first time renting a storage unit. Other than that everything was fine.
RecommendedNo
Price3/5 (fair price)
Service3/5 (helpful)
Cleanliness4/5 (clean)
- Ana
Great customer service
Great customer service
- Tameca Booker
I have been a customer for almost two ...
I have been a customer for almost two years now due to my living situation . I recently went to a smaller storage unit, yet , I had To refill out all the paper work and pay for The process . That did not seem very fair since I was already a paying customer , I did not feel like a appreciates customer . I felt ripped off After the process.
- Rick David Fitzsimmons
REVIEWS SUMMARY
10% of respondents would recommend this facility to a friend.
Pros
Good Value(1)
Good Service(2)
Clean(3)