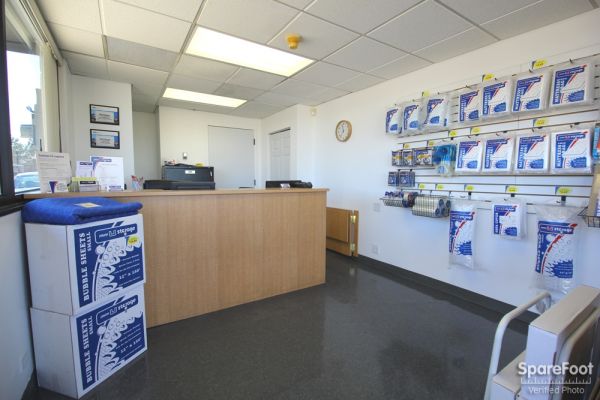 Make a risk free reservation at
Mini U Storage - AAA County Line
Features & amenities
Access
Electronic gate access
Handcarts available
Administration
Admin fee: $25.00
On site office at facility
Moving
Penske truck rental available
Free use of truck (tenant must refuel, $19 truck rental insurance, [50 miles at no charge] 250 mile limit)
Moving supplies for sale
Vehicle Storage Requirements
Requires registration
Requires insurance
Vehicle requires title
Must be drivable
Property Coverage
Insurance required
Insurance available
Homeowners/Renters insurance accepted
Discounts
5% Military discount (applies to active-duty, reserves, veterans only)
5% Senior discount
Billing
Email billing available
Rent due on same day each month per lease start
Auto-pay available
Cash accepted
Checks accepted
Credit cards accepted: Visa, Mastercard, AMEX, Discover
office hours
| | |
| --- | --- |
| Sun | 9:00 am - 3:00 pm |
| Mon | 9:00 am - 6:00 pm |
| Tue | 9:00 am - 6:00 pm |
| Wed | 9:00 am - 6:00 pm |
| Thu | 9:00 am - 6:00 pm |
| Fri | 9:00 am - 6:00 pm |
| Sat | 8:00 am - 6:00 pm |
access hours
| | |
| --- | --- |
| Sun | 6:00 am - 9:00 pm |
| Mon | 6:00 am - 9:00 pm |
| Tue | 6:00 am - 9:00 pm |
| Wed | 6:00 am - 9:00 pm |
| Thu | 6:00 am - 9:00 pm |
| Fri | 6:00 am - 9:00 pm |
| Sat | 6:00 am - 9:00 pm |
Facility's fees & requirements
Facility Administration Fee: $25.00
Security Deposit: Security deposit required
About this facility
• Free Truck rental period with each new unit rental ($30 value), first 50 miles FREE! (Insurance, deposit and fuel are renter's responsibility) Get all the details from the managers. • Large variety of Inside and Drive Up access units • Customer service is our #1 PRIORITY! • 24 hour access is available upon request. • Free use of shelving – keep your stuff neat and organized! • Mini U Storage has friendly and knowledgeable staff that can help you with all of your moving and storage needs. We even sell moving and packing supplies on-site for additional convenience. • Advertised unit sizes are approximate sizes. Please inspect the unit to be sure the actual size meets your needs. • The special pricing and Move-In Discounts are for new customers only. *Proof of property insurance is required at the time of move-in. For your convenience, we offer property insurance on-site. *Due to high demand we can only guarantee availability for a few days, though we will do everything possible to honor all reservations. Please reserve your unit within 7 days of your storage need. Thanks!
Mini U Storage - AAA County Line
Customer reviews
51 - 55 out of 77 reviews
Needs a Little cleaning and TLC, other than that it is a great price and facility.
RecommendedYes
Price4/5 (good value)
Service4/5 (very helpful)
Cleanliness2/5 (somewhat dirty)
- Karin
Colin was excellent. I felt bad because I came in right as he was about to close and he was extremely polite and helpful.
RecommendedYes
Price5/5 (excellent value)
Service5/5 (outstanding)
Cleanliness5/5 (squeaky clean)
- ALEXANDRA
Extremely Disappointed
My credit card company sent me a new card when my old one expired but didn't tell me that the number had changed. As a result, my auto payment was missed for the first time since being a customer. When I called to explain the situation I was told that the late fee could not be waived but was not given a reason. I think this was very unfair and am very diasappointed. I will be closing my unit at the end of the month. This facility just lost a customer over $15.00. Hope it was worth it.
RecommendedNo
Price1/5 (unfair price)
Service1/5 (very unhelpful)
Cleanliness1/5 (very dirty)
- Angela Jimenez
Great customer service. I recieved an amazing price with an online discount!
I jrecently rented a large storage unit on May 3rd (wish I could remember the guys name who did my paperwork, maybe James ? ). I have found the moving process pretty stressful. Renting the storage unit was the easiest part thus far. I changed my moving date 3 times, which included the truck rental. I know it was a pain, yet the staff was always so nice about it (thanks Jolene). The truck rental was a huge bonus for me, one less thing to worry about. It was convenient, saved time and money. The price for the storage unit was excellent compared to other places I looked in the area. I was about to pay $40.00 more a month for a smaller unit somewhere else, with no truck rental option. Yay for me! I am so glad I found this place!
RecommendedYes
Price5/5 (excellent value)
Service5/5 (outstanding)
Cleanliness4/5 (clean)
- Liz Whitaker
Easy, quick, great deal
Joline and Steven were nice to deal with.
RecommendedYes
Price5/5 (excellent value)
Service5/5 (outstanding)
Cleanliness5/5 (squeaky clean)
- Michael
REVIEWS SUMMARY
97% of respondents would recommend this facility to a friend.
Pros
Good Value(62)
Good Service(73)
Clean(68)
Cons
Expensive(4)
Dirty(2)
Poor Service(2)