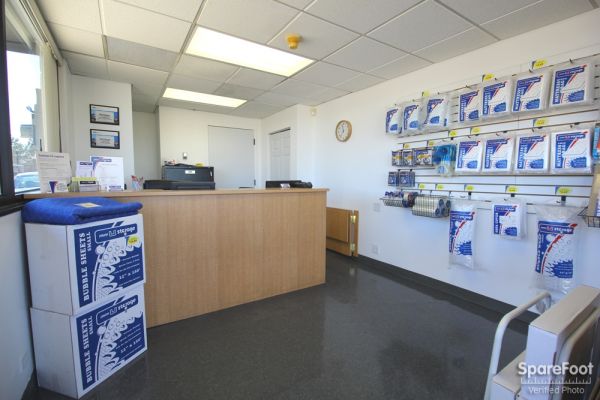 Make a risk free reservation at
Mini U Storage - AAA County Line
50% off the first month's rent! Free Truck rental period, $30 Value.
10' x 20' unit
Roll Up Door
Drive Up Access
Outdoor Access
1st Floor
Vehicle
Available for enclosed vehicle storage
Features & amenities
Access
Electronic gate access
Handcarts available
Administration
Admin fee: $25.00
On site office at facility
Moving
Penske truck rental available
Free use of truck (tenant must refuel, $19 truck rental insurance, [50 miles at no charge] 250 mile limit)
Moving supplies for sale
Vehicle Storage Requirements
Requires registration
Requires insurance
Vehicle requires title
Must be drivable
Property Coverage
Insurance required
Insurance available
Homeowners/Renters insurance accepted
Discounts
5% Military discount (applies to active-duty, reserves, veterans only)
5% Senior discount
Billing
Email billing available
Rent due on same day each month per lease start
Auto-pay available
Cash accepted
Checks accepted
Credit cards accepted: Visa, Mastercard, AMEX, Discover
office hours
| | |
| --- | --- |
| Sun | 9:00 am - 3:00 pm |
| Mon | 9:00 am - 6:00 pm |
| Tue | 9:00 am - 6:00 pm |
| Wed | 9:00 am - 6:00 pm |
| Thu | 9:00 am - 6:00 pm |
| Fri | 9:00 am - 6:00 pm |
| Sat | 8:00 am - 6:00 pm |
access hours
| | |
| --- | --- |
| Sun | 6:00 am - 9:00 pm |
| Mon | 6:00 am - 9:00 pm |
| Tue | 6:00 am - 9:00 pm |
| Wed | 6:00 am - 9:00 pm |
| Thu | 6:00 am - 9:00 pm |
| Fri | 6:00 am - 9:00 pm |
| Sat | 6:00 am - 9:00 pm |
Facility's fees & requirements
Facility Administration Fee: $25.00
Security Deposit: Security deposit required
About this facility
• Free Truck rental period with each new unit rental ($30 value), first 50 miles FREE! (Insurance, deposit and fuel are renter's responsibility) Get all the details from the managers. • Large variety of Inside and Drive Up access units • Customer service is our #1 PRIORITY! • 24 hour access is available upon request. • Free use of shelving – keep your stuff neat and organized! • Mini U Storage has friendly and knowledgeable staff that can help you with all of your moving and storage needs. We even sell moving and packing supplies on-site for additional convenience. • Advertised unit sizes are approximate sizes. Please inspect the unit to be sure the actual size meets your needs. • The special pricing and Move-In Discounts are for new customers only. *Proof of property insurance is required at the time of move-in. For your convenience, we offer property insurance on-site. *Due to high demand we can only guarantee availability for a few days, though we will do everything possible to honor all reservations. Please reserve your unit within 7 days of your storage need. Thanks!
Mini U Storage - AAA County Line
Customer reviews
61 - 65 out of 77 reviews
Fair facility, but certainly not industry leading
Compared to competitive sites, this facility is way down near the bottom of the list. Why? First of all, setting up an account takes twice as long as at other places (for example, ExtraSpace Storage, who do all processing on-line). Second, you cannot setup automatic payment. ExtraSpace Storage offered that and it took an extra five seconds to set it up, so now it is 'set and forget.' Third, I had to send in proof of insurance (my fault as I had brought in a copy of an expired policy)--but they could not take it by email, it HAD to be sent by FAX, which for most home users is an extra pain in the arse. Fourth, and real frosting on this cake, they offered me a voucher for tickets to a Avalanche or Colorado Rockies game. Since I live out of the country and was here only for a couple of weeks, I chose the Avalanche. I received instructions on how to log in to their on-line site to be provided with a list of games for which I could use the voucher. It turns out that when you go to that website, the ONLY option is for Rockies--so in effective, this was a 'false benefit' offered by the office. When I called to ask about it, the office simply told me that he would have to pass on the complain to the owners, who just happened to be out for a few days for the holidays, and just long enough that I will be overseas by the time it gets fixed--if it does. It is a reasonable facility, conveniently located, with average prices, but they are certainly not a modern business using modern business techniques but their competitors certainly do.
RecommendedNo
Price2/5 (a little steep)
Service2/5 (somewhat unhelpful)
Cleanliness3/5 (average)
- Terry H
Friendly Staff, Nice Place
I have never rented a storage unit before and I received great customer service and they made it quick and easy. I was happy that they went out of their way to get me deals on the unit. Great place to go!
RecommendedYes
Price5/5 (excellent value)
Service5/5 (outstanding)
Cleanliness5/5 (squeaky clean)
- Lori Boyle
Smooth and easy storage rental experience, great deal.
James was extremely helpful and efficient. The discount on first months rent was a great deal, plus other free-bees. It made it affordable for a person just moving into town, plus the service was great.
RecommendedYes
Price5/5 (excellent value)
Service5/5 (outstanding)
Cleanliness5/5 (squeaky clean)
- Steve Meraz
Overall, I really like this facility. The only thing I did not like is the Manager's attitude toward another customer. She felt this customer was being evicted and told me several times about her suspicions. She also did not treat this customer very well. I understand that in this business you see things like this - but I don't think it is respectful of others in difficult circumstances to be gossipy, judgmental, and unwilling to be customer service oriented. The facility is clean and everything else is great.
RecommendedYes
Price3/5 (fair price)
Service3/5 (helpful)
Cleanliness4/5 (clean)
- Carol
Great, timely and couteous
RecommendedYes
Price3/5 (fair price)
Service4/5 (very helpful)
- Ginger
REVIEWS SUMMARY
96% of respondents would recommend this facility to a friend.
Pros
Good Value(62)
Good Service(73)
Clean(68)
Cons
Expensive(4)
Dirty(2)
Poor Service(2)