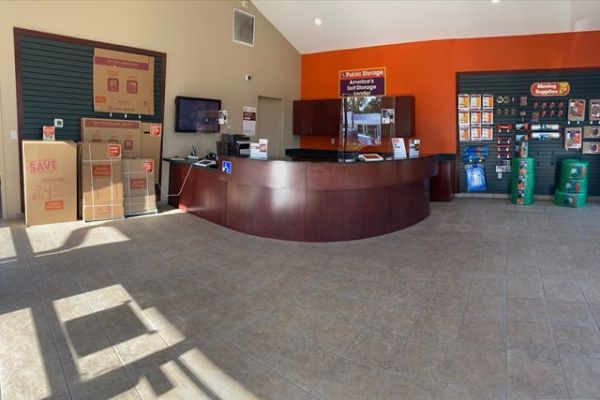 Make a risk free reservation at
Public Storage - Bradenton - 3009 53rd Ave E
Features & amenities
Vehicle Storage Requirements
Requires registration
Requires insurance
Vehicle requires title
Must be drivable
Property Coverage
Insurance required
Insurance available
Homeowners/Renters insurance accepted
Billing
Email billing available
First of month
Auto-pay available
Cash accepted
Checks accepted
Credit cards accepted: Visa, AMEX, Mastercard, Discover
office hours
| | |
| --- | --- |
| Sun | 9:30 am - 5:00 pm |
| Mon | 9:30 am - 6:00 pm |
| Tue | 9:30 am - 6:00 pm |
| Wed | 9:30 am - 6:00 pm |
| Thu | 9:30 am - 6:00 pm |
| Fri | 9:30 am - 6:00 pm |
| Sat | 9:30 am - 5:00 pm |
access hours
| | |
| --- | --- |
| Sun | 6:00 am - 9:00 pm |
| Mon | 6:00 am - 9:00 pm |
| Tue | 6:00 am - 9:00 pm |
| Wed | 6:00 am - 9:00 pm |
| Thu | 6:00 am - 9:00 pm |
| Fri | 6:00 am - 9:00 pm |
| Sat | 6:00 am - 9:00 pm |
Facility's fees & requirements
Facility Administration Fee: $29.00
Security Deposit: Security deposit required
About this facility
This Bradenton Public Storage is great for customers seeking self storage space on the south side of town near Oneco, just east of U.S. 301. From athletic equipment to recreational items for the beach, the bay or the river, or just a bunch of boxes piling up in a home near Ward Lake, a 10x10 storage unit can provide some much-needed storage relief in an instant. Braden River High School families can use a 10x20 storage unit to pack up bedroom furniture and boxes of clothes that the kids have outgrown, while a larger 10x30 storage unit can accommodate just about everything inside a five-bedroom home, appliances included. Climate controlled storage units, indoor storage units and outdoor storage units come in different sizes to meet a wide range of storage needs. There are also options for storing a car, truck, SUV, RV or boat in the gated storage area. The recent population spike in Bradenton may have cooled off a bit, but that doesn't mean extra space is always easy to find. That's why Public Storage offers cheap storage units and friendly customer service to help residents, businesses and even guests find as much extra storage space as they need at any given time.
Public Storage - Bradenton - 3009 53rd Ave E
Customer reviews
1 - 5 out of 27 reviews
Easy to secure.
Process was easy. Perfect size for what I needed. Can't complain.
RecommendedYes
Price5/5 (excellent value)
Service5/5 (outstanding)
Cleanliness5/5 (squeaky clean)
- Joe L Lamora
so far good
i just rented a unit and so far good.
- Doris Shinka
pleasant experience as always...
pleasant experience as always...
- Ellen Carbone
Very convenient place.
It was fast to get the paperwork done
RecommendedYes
Price5/5 (excellent value)
Service4/5 (very helpful)
Cleanliness4/5 (clean)
- Tomas
Customer help was good
Customer help was good, so far so good
- Rafael
REVIEWS SUMMARY
4% of respondents would recommend this facility to a friend.
Pros
Good Value(2)
Good Service(2)
Clean(2)