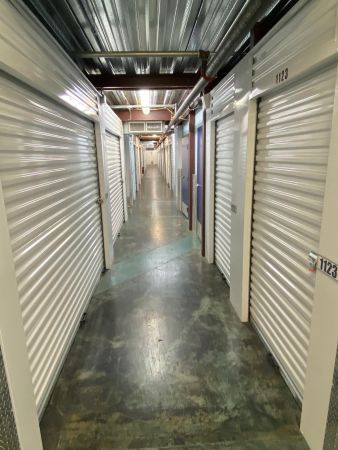 Make a risk free reservation at
Midgard Self Storage Jacksonville FL, LLC
Features & amenities
Access
Electronic gate access
Elevator available
Handcarts available
24-hour access (for business users only, with manager approval, for an additional monthly fee)
Administration
Admin fee: $30.00
Spanish speaking managers
Accepts mail/packages for tenants
On site office at facility
Moving
Truck rental available
Moving supplies for sale
Vehicle Storage Requirements
Requires registration
Requires insurance
Must be drivable
Security Features
Video cameras on site
Fenced & Lighted
Manager lives on-site
Property Coverage
Insurance required
Insurance available
Billing
Email billing available
Rent due on 1st of each month
Auto-pay available
Checks accepted
Credit cards accepted: Visa, Mastercard, AMEX, Discover
Other
Paperwork can be done remotely
office hours
| | |
| --- | --- |
| Sun | 12:00 pm - 4:00 pm |
| Mon | 9:00 am - 6:00 pm |
| Tue | 9:00 am - 6:00 pm |
| Wed | 9:00 am - 6:00 pm |
| Thu | 9:00 am - 6:00 pm |
| Fri | 9:00 am - 6:00 pm |
| Sat | 9:00 am - 6:00 pm |
access hours
| | |
| --- | --- |
| Sun | 7:00 am - 10:00 pm |
| Mon | 7:00 am - 10:00 pm |
| Tue | 7:00 am - 10:00 pm |
| Wed | 7:00 am - 10:00 pm |
| Thu | 7:00 am - 10:00 pm |
| Fri | 7:00 am - 10:00 pm |
| Sat | 7:00 am - 10:00 pm |
Facility's fees & requirements
Facility Administration Fee: $30.00
Security Deposit: Security deposit required
About this facility
Our modern self storage facility in Jacksonville, Florida, is designed to make your moving experience easier than ever. Unique features like climate-controlled units, RV & boat storage, and ground floor units make storing a breeze. And with easy access to Southside Connector, our location is a convenient stop no matter where your day takes you. ur Full Suite of Advanced Features: Climate-Controlled Units RV & Boat Storage Wide Driveways Fully Fenced Digital Security System 24 Hour Gate Access Packing & Moving Supplies U-Haul Truck Rentals Contact our team today to learn more about the storage solutions at Midgard Self Storage.
Midgard Self Storage Jacksonville FL, LLC
Customer reviews
1 - 5 out of 8 reviews
Nice place
Best place I could find ………………….
RecommendedYes
Price3/5 (fair price)
Service4/5 (very helpful)
Cleanliness4/5 (clean)
- BJ Johnson
Great customer service
They were cheaper than expected
RecommendedYes
Price5/5 (excellent value)
Service5/5 (outstanding)
Cleanliness5/5 (squeaky clean)
- Keisha Lyles
Your Facility sucks
Do not rent at this location they will tell you one thing in person and a representative online will tell you another I gave my 30 day notice which is email to me instead of them processing my request they let my account stay open which racked up from 103 to now 671 which they sent to a collection agency good luck with getting the payment now. I was told by Facility my account would not go up more than 103 dollars days later I received another call saying I owe 500 and some change and was Harass daily
RecommendedNo
Price3/5 (fair price)
Service1/5 (very unhelpful)
Cleanliness3/5 (average)
- Kandrea
Friendly staff
So far I have no complaints about this storage place
RecommendedYes
Price4/5 (good value)
Service4/5 (very helpful)
Cleanliness4/5 (clean)
- Candice
Don't Rent from these people.
They broke into my storage an took all of my personal belongings. It has to be an inside job because they went through everything.They not only to tvs..computer..microwave air fryer but they took an iron brand new suite cases towels toliet paper rugs but they took the most dear thing to my heart my portraits of my kids no thief takes that kind of stuff. Do not rent from here.
RecommendedNo
Price1/5 (unfair price)
Service1/5 (very unhelpful)
Cleanliness3/5 (average)
- Jacquelyn
REVIEWS SUMMARY
50% of respondents would recommend this facility to a friend.
Pros
Good Service(5)
Clean(5)
Good Value(4)
Cons
Poor Service(3)
Expensive(1)