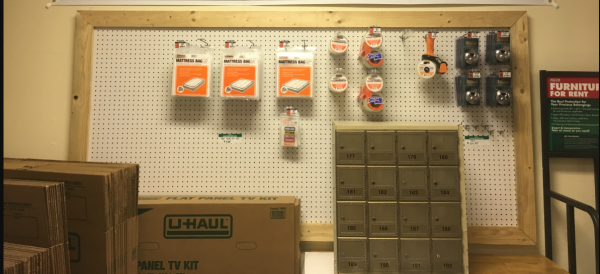 Make a risk free reservation at
Emerald Coast Storage/Parking and U-Haul -Jackson
The second full month free with one month pre-payment
4' x 4' unit
Ceiling: 8ft
Drive Up Access
Outdoor Access
The second full month free with one month pre-payment
4' x 8' unit
Ceiling: 8ft
Drive Up Access
Outdoor Access
The second full month free with one month pre-payment
5' x 10' unit
Ceiling: 10ft
Roll Up Door
ADA Accessible
Drive Up Access
Premium Location
Lights
1st Floor
Features & amenities
Access
Electronic gate access
24-hour access (for specific units, with background check, with manager approval, for an additional monthly fee)
Vehicle Storage Requirements
Requires registration
Requires insurance
Must be drivable
Security Features
Video cameras on site
Fenced & Lighted
Property Coverage
Insurance available
Homeowners/Renters insurance accepted
Discounts
10% Military discount (applies to active-duty, reserves, veterans only)
10% Senior discount
10% Student discount
Billing
Email billing available
Rent due on 1st of each month
Auto-pay available
$25 Security deposit required (refundable)
Cash accepted
Checks accepted
Credit cards accepted: Visa, Mastercard, AMEX, Discover
Other
Paperwork can be done remotely
office hours
| | |
| --- | --- |
| Sun | closed |
| Mon | By Appointment Only |
| Tue | By Appointment Only |
| Wed | By Appointment Only |
| Thu | By Appointment Only |
| Fri | By Appointment Only |
| Sat | By Appointment Only |
access hours
| | |
| --- | --- |
| Sun | 7:00 am - 7:00 pm |
| Mon | 7:00 am - 7:00 pm |
| Tue | 7:00 am - 7:00 pm |
| Wed | 7:00 am - 7:00 pm |
| Thu | 7:00 am - 7:00 pm |
| Fri | 7:00 am - 7:00 pm |
| Sat | 7:00 am - 7:00 pm |
Facility's fees & requirements
Facility Administration Fee: $25.00
Security Deposit: $25 Security deposit required (refundable)
About this facility
The facility is under new management and ownership. We pride ourselves on giving #1 customer service and unbeatable move -in incentives. We are a gated facility with lights as well as surveillance cameras throughout the facility. Our climate control units are like new. We have a remote move in process that is very simple with a secure key pad access. Reservations are booked and placed on hold until the unit has been secured (payment submitted). We may have only one unit in the size you desire or we may have multiple depending on the inventory accessible on a daily basis. It is recommended that after the booking has been placed that you contact the facility directly after to guarantee you are locked in and avoid any uneccesary confusion. It is our goal to provide you with a stress free, smooth process. We operate on a first come first serve approach so we look forward to assisiting you with facilitating all your storage needs. Please note there is a $25.00 refundable deposit along with at $25.00 administrative fee for new move-ins. Please note there is no on-site office at this facility. PLEASE CALL TO SECURE UNIT PRIOR TO MOVE IN TO CONFIRM **After you have paid a full months rent (not prorated amount) you will receive your 2nd month free.
Emerald Coast Storage/Parking and U-Haul -Jackson
Customer reviews
1 - 2 out of 2 reviews
Why go through the reservation process?
I can not say to rent or not to rent but here is my review... After spending half a day looking for a facility with a large enough storage space to move my business equipment to, I made a reservation with emerald cost on the 20th of January. We were to start moving our equipment on 2/3/22. I called to verify and make payment and found that our reservation was not honored and they have no units available to suit our needs. What! Now I have trucks ready to move with no where to move to. Thank you Emerald Coast.
RecommendedNo
Price3/5 (fair price)
Service1/5 (very unhelpful)
Cleanliness3/5 (average)
- CJ Johnson
Questionable but available
The lot itself seems questionable. Old broken down cars in pieces. Makes me nervous. Key entry is makeshift with a piece of the fence cut out. Off a busy road. Hard to access with trailer.
RecommendedNo
Price5/5 (excellent value)
Service5/5 (outstanding)
Cleanliness3/5 (average)
- Tris
REVIEWS SUMMARY
Pros
Good Value(1)
Good Service(1)