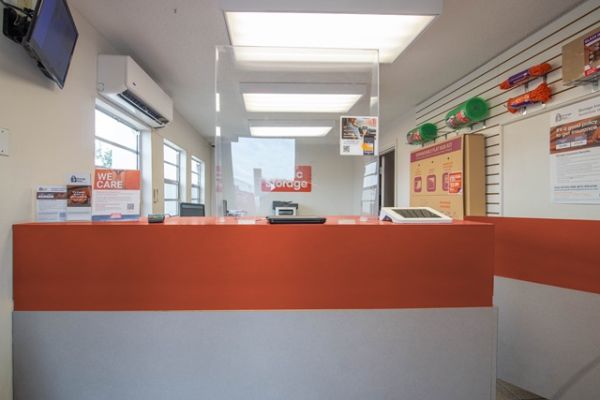 Make a risk free reservation at
Public Storage - Pompano Beach - 850 S Dixie Hwy
$1 first month rent
5' x 10' unit
Swing Door
Climate Controlled
Drive Up Access
1st Floor
Vehicle
Available for enclosed vehicle storage
Only 1 unit left
$81.00
$101.00
per month
reserve
$1 first month rent
10' x 20' unit
Roll Up Door
Climate Controlled
1st Floor
Vehicle
Interior
Available for enclosed vehicle storage
Features & amenities
Access
Electronic gate access
Elevator available
Vehicle Storage Requirements
Requires registration
Requires insurance
Vehicle requires title
Must be drivable
Security Features
Fenced & Lighted
Manager lives on-site
Property Coverage
Insurance required
Insurance available
Homeowners/Renters insurance accepted
Billing
Email billing available
First of month
Auto-pay available
Cash accepted
Checks accepted
Credit cards accepted: Visa, AMEX, Mastercard, Discover
office hours
| | |
| --- | --- |
| Sun | 9:30 am - 5:00 pm |
| Mon | 9:30 am - 6:00 pm |
| Tue | 9:30 am - 6:00 pm |
| Wed | 9:30 am - 6:00 pm |
| Thu | 9:30 am - 6:00 pm |
| Fri | 9:30 am - 6:00 pm |
| Sat | 9:30 am - 5:00 pm |
access hours
| | |
| --- | --- |
| Sun | 6:00 am - 9:00 pm |
| Mon | 6:00 am - 9:00 pm |
| Tue | 6:00 am - 9:00 pm |
| Wed | 6:00 am - 9:00 pm |
| Thu | 6:00 am - 9:00 pm |
| Fri | 6:00 am - 9:00 pm |
| Sat | 6:00 am - 9:00 pm |
Facility's fees & requirements
Facility Administration Fee: $29.00
Security Deposit: Security deposit required
About this facility
With its convenient Dixie Highway location, this Public Storage in Pompano Beach is a great place to go for cheap self storage units. Sitting on the east side of Dixie Highway just north of McNab Road and with easy access from Interstate 95, Atlantic Boulevard and Federal Highway, this facility is just minutes for local customers in any direction. Four miles from the ocean, a 5x5 unit or 5x10 unit is a great place to keep fishing equipment or beach gear throughout the year. As an area known for remarkable snorkeling and scuba diving, a 10x10 unit provides more than enough space for scuba gear and other water recreation essentials. Less than a 10-minute drive from Pompano Beach Airpark, pilots and aviators can use this facility to store flight gear and equipment, or personal belongings before takeoff. Whether it's a small business near Highway 1 going through renovations or a family on the move near Lake Santa Barbara, a large 10x30 unit provides enough storage space to keep everything in one place until the dust settles. This location provides indoor storage units and outdoor storage units, as well as the option of climate-controlled storage. There are also rental parking spaces to hold vehicles, boats or RVs for short-term or long-term storage. Public Storage takes great pride in providing Pompano Beach customers with outstanding customer service and affordable self storage solutions for every occasion.
Public Storage - Pompano Beach - 850 S Dixie Hwy
Customer reviews
26 - 30 out of 30 reviews
Ebony and Tiffany are the most helpful ...
Ebony and Tiffany are the most helpful assists at the location, they have saved me from a financial disaster
- Dumezweni Msimanga
Pleasantly surprised with how well the reservation/check in process went
Pleasantly surprised with how well the reservation/check in process went
- Danielle Dorsett
Everything is great so far!
Everyone was very nice! I got a great deal! Smooth as silk during a very difficult time period (passing of my father and disposing of his effects). Thanks!
- Jeannette Pina
Helpful Staff
Easy Fast process, Cheap price for what I wanted. Nice & helpful staff.
- Brittney
REVIEWS SUMMARY
37% of respondents would recommend this facility to a friend.
Pros
Good Value(14)
Good Service(15)
Clean(15)