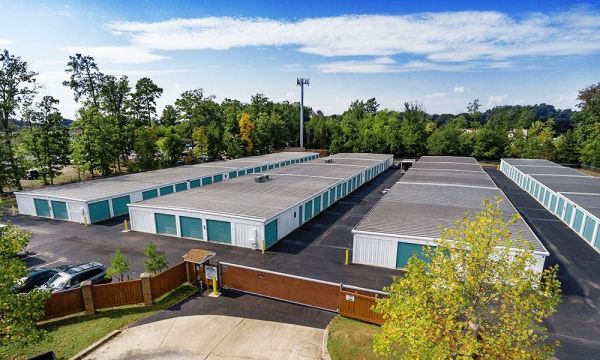 Make a risk free reservation at
Prime Storage - Bellefonte Place
Features & amenities
Access
Electronic gate access
24-hour access (for an additional monthly fee)
Administration
Admin fee: $29.00
Accepts mail/packages for tenants
On site office at facility
Vehicle Storage Requirements
Requires registration
Requires insurance
Vehicle requires title
Security Features
Video cameras on site
Fenced & Lighted
Property Coverage
Protection plan required
Protection plan available
Homeowners/Renters insurance accepted
Billing
Email billing available
Rent due on same day each month per lease start
Auto-pay available
Cash accepted
Checks accepted
Credit cards accepted: Visa, Mastercard, AMEX, Discover
Other
Paperwork can be done remotely
office hours
| | |
| --- | --- |
| Sun | closed |
| Mon | 10:00 am - 6:00 pm |
| Tue | 10:00 am - 6:00 pm |
| Wed | 10:00 am - 6:00 pm |
| Thu | 10:00 am - 6:00 pm |
| Fri | 10:00 am - 6:00 pm |
| Sat | 10:00 am - 4:00 pm |
access hours
| | |
| --- | --- |
| Sun | 6:00 am - 10:00 pm |
| Mon | 6:00 am - 10:00 pm |
| Tue | 6:00 am - 10:00 pm |
| Wed | 6:00 am - 10:00 pm |
| Thu | 6:00 am - 10:00 pm |
| Fri | 6:00 am - 10:00 pm |
| Sat | 6:00 am - 10:00 pm |
Facility's fees & requirements
Facility Administration Fee: $29.00
Security Deposit: Security deposit required
About this facility
Welcome to Prime Storage of Clinton, MD. We are your affordable, professional choice for self storage, serving many neighborhoods in Clinton and Rosaryville, including Woodyard and Williamsburg Estates. Our location is conveniently located off Bellefonte Place, which is near the MD-5 highway and just moments away from Andrews Air Force Base and Joint Base Andrews-Naval Air Facility. Visit our Bellefonte Place facility today and let one of our friendly, knowledgeable Maryland self storage team members assist you in choosing the right storage unit for your needs. This Clinton self storage location features units that are ideal for military families, individuals relocating, vehicle enthusiasts, and more. Our features include drive up units for easy accessibility, vehicle, RV, and boat storage, and a fenced & gated perimeter. Reserve your storage unit now!
Prime Storage - Bellefonte Place
Customer reviews
11 - 15 out of 17 reviews
They keep increasing the rent each month
I have had my items in this storage for over a year. The previous owners were like and i had no problems with them. Recently they were purchased by Belafonte reality, and the communication from them is horrible. Each month I have to call and go to the office to correct the issues they have created. The customer service is even worse. I will not continue to store my items there, and I would highly recommend that you don't do business here either. Their answer is always the same "we don't force you to store your items here"
RecommendedNo
Price1/5 (unfair price)
Service1/5 (very unhelpful)
Cleanliness1/5 (very dirty)
- Michael
Good location and Good Service
Prime storage was built in an ideal location for storage. The facility, both indoor and outdoor is clean and the customer service I received when I rented a storage unit was great. I highly recommend them, especially to my fellow military personnel, as they offer a military discount. Thus far I am very satisfied.
RecommendedYes
Price4/5 (good value)
Service5/5 (outstanding)
Cleanliness4/5 (clean)
- W.A. Hernandez
Purchased the storage 2-3 months ago and increased the rent by 25%
Purchased the storage 2-3 months ago and increased the rent by 25%
RecommendedNo
Price2/5 (a little steep)
Service3/5 (helpful)
Cleanliness3/5 (average)
- Michael
Unhappy Customer.
I have been a customer since 2012 as Clinton Mini Storage with Susan(deceased) as my contact who was Awesome. Now her daughter is there under Prime Storage. She is great to work with. The new company seems to be very impersonal & not very Customer Service oriented in my humble opinion. Prices have increased and now I have been informed re' an added cost of $13 monthly insurance. Wow, is this how you treat & keep your long term customers ? I've been in Property Management for over 30 years; I'm not Impressed with how I'm being treated as a Long Term Customer. I may be the Only One but I thought you should know my concerns. Thank you b
RecommendedNo
Price1/5 (unfair price)
Service3/5 (helpful)
Cleanliness3/5 (average)
- Constance Wilson
Poor lighting at night. Remote access will be great.
Nice size storage units however the lighting is poor and non functional. I called the office to submit my issue to be told they will look into it and get back with me within a week. Remote access will be a plus so you can just push the button from your vehicle instead of using the keypad.
RecommendedYes
Price3/5 (fair price)
Service4/5 (very helpful)
Cleanliness4/5 (clean)
- Keychon
REVIEWS SUMMARY
59% of respondents would recommend this facility to a friend.
Pros
Good Value(8)
Good Service(9)
Clean(9)
Cons
Expensive(6)
Poor Service(4)
Dirty(3)