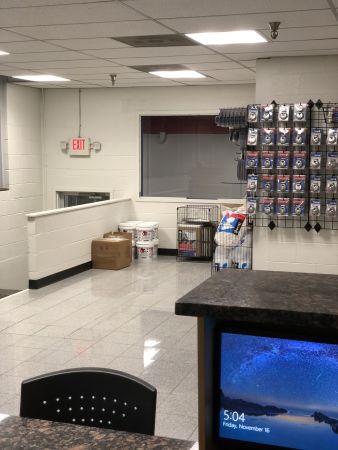 Make a risk free reservation at
Storage of America - Gustine
First month FREE! Lowest Price Guaranteed!
20' Long parking space
Climate Controlled
Vehicle
Outdoor-covered
Only 1 unit left
$85.00
per month
reserve
Features & amenities
Access
Electronic gate access
Handcarts available
24-hour kiosk service
Administration
Admin fee: $20.00
On site office at facility
Vehicle Storage Requirements
Requires registration
Requires insurance
Vehicle requires title
Must be drivable
Security Features
Video cameras on site
Fenced & Lighted
Property Coverage
Insurance required
Protection plan required
Protection plan available
Homeowners/Renters insurance accepted
Discounts
10% Military discount (applies to active-duty, reserves, veterans only)
10% Senior discount
10% Student discount
Billing
Email billing available
Rent due on 1st of each month
Auto-pay available
Cash accepted
Checks accepted
Credit cards accepted: Visa, Mastercard, AMEX, Discover
Other
Paperwork can be done remotely
office hours
| | |
| --- | --- |
| Sun | closed |
| Mon | 9:00 am - 5:30 pm |
| Tue | 9:00 am - 5:30 pm |
| Wed | 9:00 am - 5:30 pm |
| Thu | 9:00 am - 5:30 pm |
| Fri | 9:00 am - 5:30 pm |
| Sat | 9:00 am - 4:00 pm |
access hours
| | |
| --- | --- |
| Sun | 5:00 am - 11:00 pm |
| Mon | 5:00 am - 11:00 pm |
| Tue | 5:00 am - 11:00 pm |
| Wed | 5:00 am - 11:00 pm |
| Thu | 5:00 am - 11:00 pm |
| Fri | 5:00 am - 11:00 pm |
| Sat | 5:00 am - 11:00 pm |
Facility's fees & requirements
Facility Administration Fee: $20.00
Security Deposit: Security deposit required
About this facility
First month FREE! LOWEST PRICE GUARANTEED! BRAND NEW CLEAN INSIDE CLIMATE CONTROLLED STORAGE UNITS! FIRST MONTH FREE ON INSIDE SELF STORAGE UNITS ONLY** Storage of America offers the lowest prices in the St Louis area! We are located in St Louis on Gustine Avenue. With our state of the art security and extended access hours, we can take care of all your storage needs. This site features a drive thru climate controlled building for easy access to your storage unit. Extended access hours for you convenience. Our professional storage managers will assist you with all your storage needs. We sell Boxes, Locks and Packing & Moving supplies! LOWEST PRICE GUARANTEED!! WE OFFER OUTSIDE AND INSIDE PARKING SPACE RENTALS! This facility offers Outdoor Covered Parking Spaces with 24/7 access for RV, boat, travel trailer or commercial vehicles. This facility also offers Inside Open Parking Spaces with ramp access to the 2nd floor from 5am-11pm for cars, pickup trucks and small boats. Call Now to Reserve or Rent online.
Storage of America - Gustine
Customer reviews
1 - 5 out of 22 reviews
Unsafe - motorcycle was stolen
We have been renting two storage units and two vehicle spots from Storage of America on Gustine for several months. From the very beginning, we have noticed many red flags including people milling around inside the facility. Working on cars inside their units. people selling goods out of their units. and more. Last week my motorcycle was stolen from one of the "secure" vehicle parking spots. These spots are supposedly on video surveillance, but they have been unwilling to pull the video so far which makes me question if the video is actually working, or if they have some knowledge of the crime. It has been over a week and they are being unresponsive. I am now questioning the safety of the belongings in our other units. I would NOT recommend this facility. It is unsafe and your property is at risk.
RecommendedNo
Price2/5 (a little steep)
Service2/5 (somewhat unhelpful)
Cleanliness1/5 (very dirty)
- Jeff
Excellent registration and space assignment.
This an excellent facility. The Manager ensured that the assigned space would meet all of my needs. The location is also very convenient.
RecommendedYes
Price5/5 (excellent value)
Service5/5 (outstanding)
Cleanliness5/5 (squeaky clean)
- Barbara
The 2 men working Tony & Bob were awesome
Customer service was awesome & pricing.
RecommendedYes
Price5/5 (excellent value)
Service5/5 (outstanding)
Cleanliness4/5 (clean)
- LeeAnn
Unit broken into first month-possibly people living in storage units
I cannot give it zero stars or i would. unit was broken into in less than a month of having it- my husband has been trying to get a refund for 2 days because we prepaid a year- andare filing a police report at the facility right now. I have seen people walking in and out with just backpacks on which leads me to think they are living in there.
RecommendedNo
Price5/5 (excellent value)
Service2/5 (somewhat unhelpful)
Cleanliness3/5 (average)
- MICHELE
Great onsite experience
Everything about this process was smooth. I appreciate the great customer service by Tony (I believe is his name). In my opinion, he went above and beyond in making sure I was fully taken care of. He noticed an error made online, he fixed it immediately. He also assisted me to my unit after all the paperwork was completed. The exceptional service in renting a storage unit was unexpected but greatly appreciated!
RecommendedYes
Price5/5 (excellent value)
Service5/5 (outstanding)
Cleanliness5/5 (squeaky clean)
- Akisha
REVIEWS SUMMARY
91% of respondents would recommend this facility to a friend.
Pros
Good Value(18)
Good Service(18)
Clean(19)
Cons
Expensive(2)
Poor Service(2)
Dirty(1)