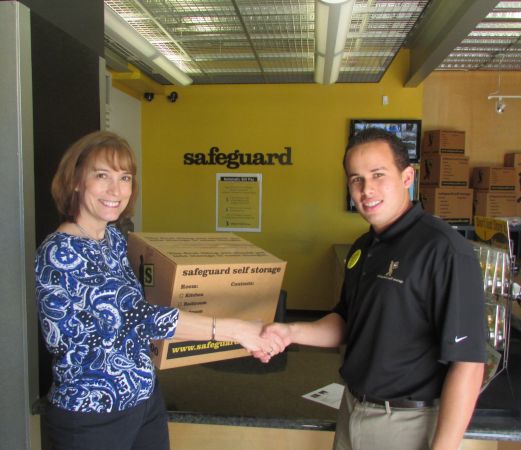 Make a risk free reservation at
Safeguard Self Storage - Bronx - Concourse Village
Features & amenities
Access
Loading dock (truck access size-20ft)
Elevator available
Handcarts available
Administration
Admin fee: $25.00
Accepts mail/packages for tenants
On site office at facility
Vehicle Storage Requirements
Requires registration
Requires insurance
Vehicle requires title
Must be drivable
Property Coverage
Insurance required
Insurance available
Homeowners/Renters insurance accepted
Billing
Email billing available
Rent due on 1st of each month
Auto-pay available
Cash accepted
Checks accepted
Credit cards accepted: Visa, Mastercard, AMEX, Discover
office hours
| | |
| --- | --- |
| Sun | 10:00 am - 5:00 pm |
| Mon | 9:00 am - 7:00 pm |
| Tue | 9:00 am - 7:00 pm |
| Wed | 9:00 am - 7:00 pm |
| Thu | 9:00 am - 7:00 pm |
| Fri | 9:00 am - 7:00 pm |
| Sat | 8:30 am - 5:30 pm |
access hours
| | |
| --- | --- |
| Sun | 10:00 am - 5:00 pm |
| Mon | 8:30 am - 7:00 pm |
| Tue | 8:30 am - 7:00 pm |
| Wed | 8:30 am - 7:00 pm |
| Thu | 8:30 am - 7:00 pm |
| Fri | 8:30 am - 7:00 pm |
| Sat | 8:30 am - 5:30 pm |
Facility's fees & requirements
Facility Administration Fee: $25.00
Security Deposit: Security deposit required
About this facility
Due to high demand we can only guarantee rates and availability for 7 days, though we will do everything possible honor all reservations (availability permitting). Please book your unit within 7 days of your storage need. Thanks! Highly-qualified and trained solutions staff Fully heated and air-conditioned Drive-in loading area Computer-controlled recorded access Video-recorded surveillance Individual door alarms Facility-wide intercom system 7-day access Deliveries accepted Carts and dollies available Boxes and packing supplies Online customer payments available ACH & credit card payment plans available VEHICLE STORAGE: Any vehicle smaller than a car, must have fuel completely drained before storing. Drain gasoline from all plumbing and parts from the carburetor to the fuel tank. If your vehicle has a shut-off valve, make sure it is in the off position. A vehicle without a shut-off valve will need to have its fuel line disconnected from the fuel tank. Loosen bottom screw on the carburetor bowl to drain the remaining fuel out of it and seal the gas tank so no air can get in.
Safeguard Self Storage - Bronx - Concourse Village
Customer reviews
1 - 5 out of 32 reviews
good, clean place to store your items
great! clean and good prices. most staff are friendly and helpful.
RecommendedYes
Price4/5 (good value)
Service4/5 (very helpful)
Cleanliness4/5 (clean)
- Maha
Cheap
I had to climb stairs for a $158 5x15 but we made it work. It was tough. Staff were friendly.
RecommendedYes
Price3/5 (fair price)
Service4/5 (very helpful)
Cleanliness5/5 (squeaky clean)
- Alex
With all the accessorising charges,first month was a total of $118.98.
We were told there was an elevator to our storage level, we had 14 flights of stairs to go up. Also they close @ 7pm, then they have a scam of overcharging you should you go beyond 7pm.
RecommendedNo
Price1/5 (unfair price)
Service2/5 (somewhat unhelpful)
Cleanliness1/5 (very dirty)
- Sherry Maleki
Awesome great service!
Have to say Luby is the best! She goes out if her way and really takes care of you like no other place. Plus this place is so clean and very convenient. I must say i would recommend this place to anyone anytime!
RecommendedYes
Price5/5 (excellent value)
Service5/5 (outstanding)
Cleanliness5/5 (squeaky clean)
- Miguel Velez
Awesome Sauce!!!!!
the place is very clean and extremely helpful to your storage needs...
RecommendedYes
Price3/5 (fair price)
Service5/5 (outstanding)
Cleanliness5/5 (squeaky clean)
- Kordell N.
REVIEWS SUMMARY
91% of respondents would recommend this facility to a friend.
Pros
Good Value(23)
Good Service(30)
Clean(29)
Cons
Expensive(3)
Poor Service(1)
Dirty(1)