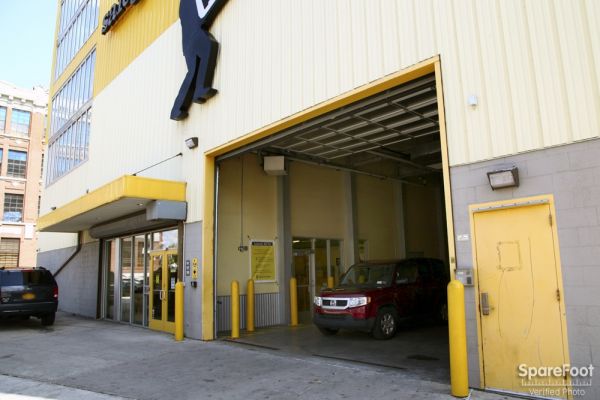 Make a risk free reservation at
Safeguard Self Storage - New York - East New York
Features & amenities
Access
Electronic gate access
Loading dock (truck access size-20ft)
Elevator available
Handcarts available
Administration
Admin fee: $25.00
Accepts mail/packages for tenants
On site office at facility
Moving
Free use of truck (15 Miles mile limit)
Moving supplies for sale
Vehicle Storage Requirements
Requires registration
Requires insurance
Vehicle requires title
Must be drivable
Property Coverage
Insurance required
Insurance available
Homeowners/Renters insurance accepted
Billing
Email billing available
Rent due on 1st of each month
Auto-pay available
Cash accepted
Checks accepted
Credit cards accepted: Visa, Mastercard, AMEX, Discover
office hours
| | |
| --- | --- |
| Sun | 10:00 am - 5:00 pm |
| Mon | 9:00 am - 7:00 pm |
| Tue | 9:00 am - 7:00 pm |
| Wed | 9:00 am - 7:00 pm |
| Thu | 9:00 am - 7:00 pm |
| Fri | 9:00 am - 7:00 pm |
| Sat | 8:30 am - 5:30 pm |
access hours
| | |
| --- | --- |
| Sun | 10:00 am - 5:00 pm |
| Mon | 8:30 am - 7:00 pm |
| Tue | 8:30 am - 7:00 pm |
| Wed | 8:30 am - 7:00 pm |
| Thu | 8:30 am - 7:00 pm |
| Fri | 8:30 am - 7:00 pm |
| Sat | 8:30 am - 5:30 pm |
Facility's fees & requirements
Facility Administration Fee: $25.00
Security Deposit: Security deposit required
About this facility
Due to high demand we can only guarantee rates and availability for 7 days, though we will do everything possible honor all reservations (availability permitting). Please book your unit within 7 days of your storage need. Thanks! Highly-qualified and trained solutions staff Fully heated and air-conditioned Drive-in loading area Computer-controlled recorded access Video-recorded surveillance Individual door alarms Facility-wide intercom system 7-day access Deliveries accepted Carts and dollies available Boxes and packing supplies Online customer payments available ACH & credit card payment plans available VEHICLE STORAGE: Any vehicle smaller than a car, must have fuel completely drained before storing. Drain gasoline from all plumbing and parts from the carburetor to the fuel tank. If your vehicle has a shut-off valve, make sure it is in the off position. A vehicle without a shut-off valve will need to have its fuel line disconnected from the fuel tank. Loosen bottom screw on the carburetor bowl to drain the remaining fuel out of it and seal the gas tank so no air can get in.
Safeguard Self Storage - New York - East New York
Customer reviews
21 - 25 out of 25 reviews
RecommendedYes
Price4/5 (good value)
Service4/5 (very helpful)
Cleanliness4/5 (clean)
- Bojune
Sparefoot is a Useless company.
I was talked into using the spare foot service by my Penske sails person. Moving cross country I just wanted to know I had a place to store my belongings upon arrival. I was told I would receive the best price and a guarantee that my rental unit would be reserved as stated (size, floor, access) None of this happened. I was able to find a rental unit closer to the location I wanted for the same price, but without the same guarantee so I stuck with Sparefoot. When I arrived at the unit after a 4 day drive I was told i had no reservation and they did not know what Sparefoot was. When I showed the associate my email and confirmation number she still said it did not exist in the system. She was able to give me the unit I wanted but without the special reservation my unit price went from 129 to 159. Not having the desire to start driving around Brooklyn looking for a better offer I decided to just take what they had to get the process over with. Thanks for nothing Sparefoot I will say that the storage space was helpful and accommodating.
RecommendedNo
Price2/5 (a little steep)
Service3/5 (helpful)
Cleanliness4/5 (clean)
- Justin
Lakeem who managed the facility was very helpful and helped clarify the misadvertised info about the rental unit requested. Very polite and professional. Spare foot advertised the unit being on the 3rd floor but it was on a mezzanine off the second which had to be accessed via stairs. Spare foot also advertised there being 6 floors in this facility which there are not. Lakeem could've easily said "oh well do you want it or not" but he made sure to clarify and offer me the option to rent. His approach is why I decided to proceed with the rental. A+ for manners and professionalism in my book
RecommendedYes
Price2/5 (a little steep)
Service5/5 (outstanding)
Cleanliness4/5 (clean)
- Meridith
RecommendedYes
Price3/5 (fair price)
Service3/5 (helpful)
Cleanliness3/5 (average)
- Berline
Staff very helpful. Cost much more than anticipated long wait but due to no internet service due to Sandy.
RecommendedYes
Price2/5 (a little steep)
Service4/5 (very helpful)
Cleanliness4/5 (clean)
- David
REVIEWS SUMMARY
92% of respondents would recommend this facility to a friend.
Pros
Good Value(15)
Good Service(21)
Clean(23)