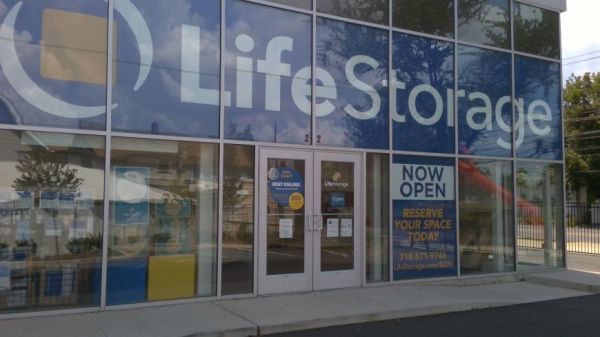 Make a risk free reservation at
Life Storage - - 22 Zebra Place
Features & amenities
Access
Electronic gate access
Elevator available
Administration
Admin fee: $29.00
Accepts mail/packages for tenants
Security Features
Video cameras on site
Fenced & Lighted
Billing
Email billing available
Auto-pay available
Cash accepted
Checks accepted
Credit cards accepted: Visa, Mastercard, AMEX, Discover
office hours
| | |
| --- | --- |
| Sun | 12:00 pm - 4:00 pm |
| Mon | 9:30 am - 6:00 pm |
| Tue | 9:30 am - 6:00 pm |
| Wed | 9:30 am - 6:00 pm |
| Thu | 9:30 am - 6:00 pm |
| Fri | 9:30 am - 6:00 pm |
| Sat | 8:30 am - 5:00 pm |
access hours
| | |
| --- | --- |
| Sun | 6:00 am - 10:00 pm |
| Mon | 6:00 am - 10:00 pm |
| Tue | 6:00 am - 10:00 pm |
| Wed | 6:00 am - 10:00 pm |
| Thu | 6:00 am - 10:00 pm |
| Fri | 6:00 am - 10:00 pm |
| Sat | 6:00 am - 10:00 pm |
Facility's fees & requirements
Facility Administration Fee: $29.00
Life Storage - - 22 Zebra Place
Customer reviews
1 - 2 out of 2 reviews
Customer service was great.
Fantastic place and great customer service. I recommend them for anyone in need of extra storage
RecommendedYes
Price3/5 (fair price)
Service5/5 (outstanding)
Cleanliness5/5 (squeaky clean)
- Philip Corhan
New facility
First off the woman Stephanie who checked us in was phenomenal.Absolutely very nice, knowledgeable woman. But to go further then this, I'm unsure if your company is trying to strive for customer service or what. But honestly the whole thing was unnecessary. It took close to 45 mins for the woman to show us unit, then check us into computer and I guess create an acct. I could of simply payed online and the key and cylinder lock could have been left in unit. Also as for size of unit, it definitely it not a 10x9. I have a 10x10 unit at the the storage unit a half a block away. That unit is way more then 1 foot more. But we are in a bind with moving and renovating our new house that I had no choice but to take the unit instead of going somewhere else. Another large issue is that the price that was stated online, aswell as the confirmation email that showed the next 2 months statements is not the price I payed in the end. Both online and in email it was stated unit would be $173 per month. After walking from one end of complex to other and back again to office so Stephanie could show us unit. I was then informed that I had to purchase insurance on the unit. I was told this is a requirement and there was 3 levels to choose from. I even stated I've had numerous units in the past through diff companies and never had to purchase insurance before. Again was told it's a requirement. So therefore my price is not $173 as stated 2x by company it's in fact $185. For that price I would of just got a unit at the place down the block I'm currently with already. But as stated before I'm in a bind and in the middle of a renovation so had to purchase unit due to time constraints. This has no bearing on the woman Stephanie who worked with us. She is simply doing her job. But again those few issues are a little bit annoying. Renting a storage unit is fairly straightforward, it doesnt need all the bells and whistles nor does it need insurance. Actual cost should be fully stated online.
RecommendedYes
Price3/5 (fair price)
Service5/5 (outstanding)
Cleanliness5/5 (squeaky clean)
- Megan plunkett
REVIEWS SUMMARY
100% of respondents would recommend this facility to a friend.
Pros
Good Service(2)
Clean(2)