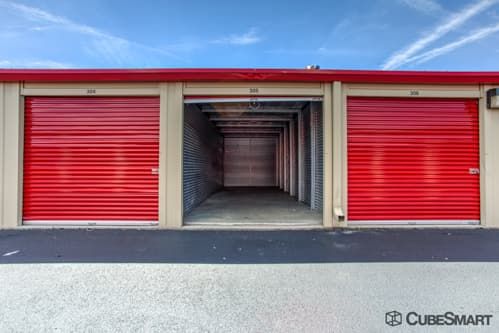 Make a risk free reservation at
CubeSmart Self Storage - Columbus - 3391 S High St
Features & amenities
Vehicle Storage Requirements
Requires registration
Requires insurance
Vehicle requires title
Must be drivable
Security Features
Video cameras on site
Fenced & Lighted
Property Coverage
Insurance required
Insurance available
Homeowners/Renters insurance accepted
Discounts
5% Military discount (applies to active-duty only)
Billing
Email billing available
Rent due on same day each month per lease start
Auto-pay available
Cash accepted
Checks accepted
Credit cards accepted: Visa, Mastercard, AMEX, Discover
office hours
| | |
| --- | --- |
| Sun | closed |
| Mon | 9:30 am - 6:00 pm |
| Tue | 9:30 am - 6:00 pm |
| Wed | 9:30 am - 6:00 pm |
| Thu | 9:30 am - 6:00 pm |
| Fri | 9:30 am - 6:00 pm |
| Sat | 8:30 am - 5:00 pm |
access hours
| | |
| --- | --- |
| Sun | 6:00 am - 10:00 pm |
| Mon | 6:00 am - 10:00 pm |
| Tue | 6:00 am - 10:00 pm |
| Wed | 6:00 am - 10:00 pm |
| Thu | 6:00 am - 10:00 pm |
| Fri | 6:00 am - 10:00 pm |
| Sat | 6:00 am - 10:00 pm |
Facility's fees & requirements
Facility Administration Fee: $24.00
Security Deposit: Security deposit required
About this facility
CubeSmart Self Storage is committed to providing our customers with excellent products, facilities, and customer service. Our customers enjoy many perks including moving services, packing & shipping supplies, storage customization, and business services - along with the best discounts in the industry!
CubeSmart Self Storage - Columbus - 3391 S High St
Customer reviews
1 - 5 out of 15 reviews
Good,well maintained, okay priced,stiff fees
No free month, special 1/2 off rate isa about average for that size unit.anyway . Not content or delighted by this storage choice. Would definitely have second thoughts if had to do it over.
RecommendedYes
Price4/5 (good value)
Service4/5 (very helpful)
Cleanliness4/5 (clean)
- Don Lannaman
Simple process
I had a great experience moving in. Friendly customer service with Jeff and the perfect size 10x20 space. The gate code was pretty simple to use as well.
RecommendedYes
Price4/5 (good value)
Service5/5 (outstanding)
Cleanliness4/5 (clean)
- C. Thomas
Horrible experience
I have been with this facility for 2 years and had to miss a payment because of the pandemic and they refused to work out payment arrangements. I wanted to remove my belongings but it was infested with roaches. Horrible experience DO NOT RENT FROM THEM.
RecommendedNo
Price3/5 (fair price)
Service3/5 (helpful)
Cleanliness3/5 (average)
- Sharon
Mouse infested
My storage unit was infested with mice and ruined almost all of my items. There were mouse feces everywhere and even a dead mouse in the unit. So disgusting! Then I had to dispose of all the ruined items. No refund was given and was told to file a claim with the insurance company!
RecommendedNo
Price1/5 (unfair price)
Service1/5 (very unhelpful)
Cleanliness1/5 (very dirty)
- Linda
Great location,pricing, clean and excellent customer service.
I feel very comfortable with my items being stored there.
RecommendedYes
Price5/5 (excellent value)
Service5/5 (outstanding)
Cleanliness5/5 (squeaky clean)
- Tammica
REVIEWS SUMMARY
87% of respondents would recommend this facility to a friend.
Pros
Good Value(11)
Good Service(13)
Clean(12)
Cons
Expensive(1)
Poor Service(1)
Dirty(1)