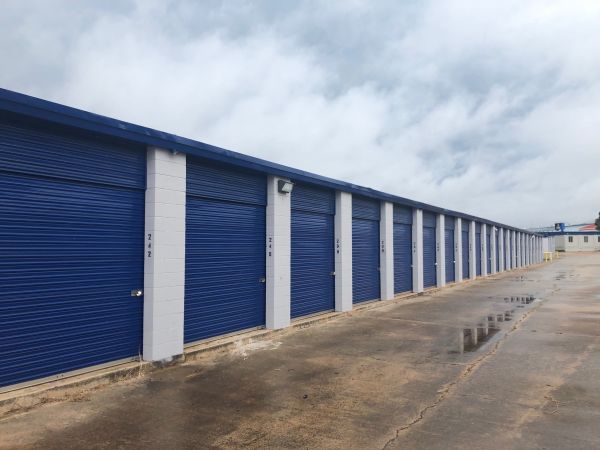 Make a risk free reservation at
Simply Self Storage - 13401 N Indiana Avenue - Chisholm Creek
Features & amenities
Administration
Admin fee: $24.00
On site office at facility
Vehicle Storage Requirements
Requires registration
Requires insurance
Vehicle requires title
Must be drivable
Security Features
Video cameras on site
Fenced & Lighted
Property Coverage
Insurance required
Insurance available
Billing
Email billing available
Rent due on 1st of each month
Auto-pay available
Cash accepted
Checks accepted
Credit cards accepted: Visa, Mastercard, AMEX, Discover
office hours
| | |
| --- | --- |
| Sun | closed |
| Mon | 9:30 am - 6:00 pm |
| Tue | 9:30 am - 6:00 pm |
| Wed | 9:30 am - 6:00 pm |
| Thu | 9:30 am - 6:00 pm |
| Fri | 9:30 am - 6:00 pm |
| Sat | 8:30 am - 5:00 pm |
access hours
| | |
| --- | --- |
| Sun | 6:00 am - 10:00 pm |
| Mon | 6:00 am - 10:00 pm |
| Tue | 6:00 am - 10:00 pm |
| Wed | 6:00 am - 10:00 pm |
| Thu | 6:00 am - 10:00 pm |
| Fri | 6:00 am - 10:00 pm |
| Sat | 6:00 am - 10:00 pm |
Facility's fees & requirements
Facility Administration Fee: $24.00
Security Deposit: Security deposit required
About this facility
Located just South of the John Kilpatrick Turnpike, at 13401 North Indiana Avenue, our Chisholm Creek storage facility is close to many popular shopping destinations. Right next door to Sam's Club and Walmart, and across the way from Target.
Simply Self Storage - 13401 N Indiana Avenue - Chisholm Creek
Customer reviews
1 - 5 out of 27 reviews
Zero Room Lighting
The storage hallway or corridor space had zero lighting which forced us to work in the dark and using our cell flashlights. We immediately reported the issue and, the front desk guy told us we'd have to wait on the maintenance staff which was not helpful, especially since one needs both hands to efficiently and quickly load the store room. Would hope that the company does regular maintenance: otherwise I am concerned that the climate-controlled space might get neglected too.
RecommendedNo
Price3/5 (fair price)
Service2/5 (somewhat unhelpful)
Cleanliness3/5 (average)
- Ted
Amazing
The Customer Service was absolutely beyond incredible. The location and on site of the units it's extremely well taken care of and clean. I feel safe and secure about my belongings being left alone.
RecommendedYes
Price5/5 (excellent value)
Service5/5 (outstanding)
Cleanliness5/5 (squeaky clean)
- Shydler
Very unhappy with the customer service
The move-in process was quick, but the weekend attendant never asked me if I needed a lock. Instead he just said, "Here, you'll need this." I thought you had to use their lock. Later looking at the receipt, I noticed the $15.99 charge. Once I arrived at my unit, we looked for a cart, which the website said is available. Not finding one, I called the office and was told that the website I was looking at was the main site, that not all locations have them and this one did not have them. I told him it most certainly did say that that location had carts, to which he said, "I'll tell my manager." This forced us to move a 16' foot moving truck into a middle interior unit one box at a time. The fact that the website said they had carts was the only reason I chose this facility. Also, the light fixtures in front of my unit and the one to the right had no light bulbs in them, making it very dark. Additionally, the facility was filled with dead bugs and a dead rat. I went in to see the main manager the following Monday. He didn't care one bit. He didn't want to write my name and unit number down. He didn't offer me a refund on the lock I didn't need; he just said, "yeah, they do like to up sell the locks." He didn't want to look at the pictures of the light fixtures without light bulbs. And he blamed the lack of cleanliness on the weekend attendant being injured, as if it was a one day issue. The moment I can get out of this unit, I will move out and not come back.
RecommendedNo
Price3/5 (fair price)
Service1/5 (very unhelpful)
Cleanliness1/5 (very dirty)
- Tom DeMatteo
Clean and easy. Just how I like it.
See my summary. Says enough. That's it.
RecommendedYes
Price5/5 (excellent value)
Service5/5 (outstanding)
Cleanliness5/5 (squeaky clean)
- Bryan
Perfectly Acceptable
This property is capable at keep your property in a room .
RecommendedYes
Price3/5 (fair price)
Service4/5 (very helpful)
Cleanliness3/5 (average)
- Taylor
REVIEWS SUMMARY
93% of respondents would recommend this facility to a friend.
Pros
Good Value(20)
Good Service(25)
Clean(24)
Cons
Poor Service(2)
Dirty(1)