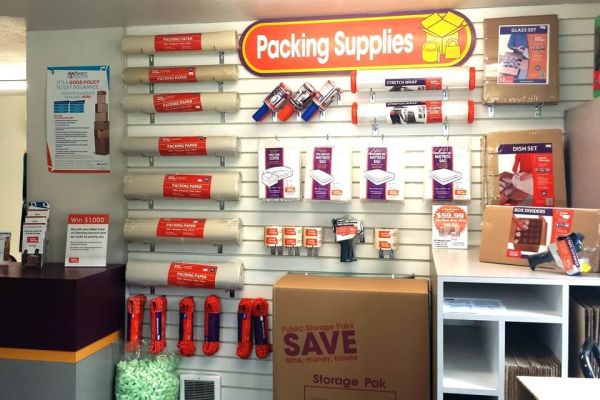 Make a risk free reservation at
Public Storage - Portland - 11995 SW Corby Drive
50% off 1st Month
10' x 20' unit
Roll Up Door
Drive Up Access
Outdoor Access
1st Floor
Vehicle
Available for enclosed vehicle storage
Only 3 units left
$268.00
$298.00
per month
reserve
2nd Month Free
12' x 22' unit
Drive Up Access
Outdoor Access
1st Floor
Vehicle
Available for enclosed vehicle storage
Only 1 unit left
$315.00
$350.00
per month
reserve
12' x 30' unit
Roll Up Door
24 Hour Access
Drive Up Access
Outdoor Access
1st Floor
Vehicle
Available for enclosed vehicle storage
Only 2 units left
$365.00
$406.00
per month
reserve
Features & amenities
Vehicle Storage Requirements
Requires registration
Requires insurance
Vehicle requires title
Must be drivable
Security Features
Fenced & Lighted
Manager lives on-site
Property Coverage
Insurance required
Insurance available
Homeowners/Renters insurance accepted
Billing
Email billing available
First of month
Auto-pay available
Cash accepted
Checks accepted
Credit cards accepted: Visa, AMEX, Mastercard, Discover
office hours
| | |
| --- | --- |
| Sun | 9:30 am - 5:00 pm |
| Mon | 9:30 am - 6:00 pm |
| Tue | 9:30 am - 6:00 pm |
| Wed | 9:30 am - 6:00 pm |
| Thu | 9:30 am - 6:00 pm |
| Fri | 9:30 am - 6:00 pm |
| Sat | 9:30 am - 5:00 pm |
access hours
| | |
| --- | --- |
| Sun | 6:00 am - 9:00 pm |
| Mon | 6:00 am - 9:00 pm |
| Tue | 6:00 am - 9:00 pm |
| Wed | 6:00 am - 9:00 pm |
| Thu | 6:00 am - 9:00 pm |
| Fri | 6:00 am - 9:00 pm |
| Sat | 6:00 am - 9:00 pm |
Facility's fees & requirements
Facility Administration Fee: $29.00
Security Deposit: Security deposit required
About this facility
This Cedar Mill Public Storage is a convenient self storage facility for customers looking for some extra storage space off Highway 26 west of Portland, just north of Beaverton. Located on the north side of Sunset Highway between Murray Boulevard and Cedar Hills Boulevard, just about a mile west of Highway 217, this property is open 7 days a week. Roughly seven miles from downtown Portland, there is a great selection of cheap storage units to pick from at this location, including indoor storage units and outdoor storage units. Apartment residents in the West Haven-Sylvan area can use a 10x10 storage unit for year-round storage of things like skis, snowboards, bikes and kayaks, or an old coffee table, bookcase or entertainment center taking up too much space in the living room. Businesses along Cornell Road can keep things tidy and neat around the office with the help of a 10x20 storage unit, which can provide ample extra commercial storage space when needed. Families in Cedar Hills that are getting ready for a major home renovation can pack up several bedrooms, the living room, the dining room, the kitchen and all of the appliances into a large 10x30 storage unit until the dust settles. This facility also offers a manager who lives on site and rental outdoor parking spaces or enclosed units for vehicle storage. With popular local attractions like the Oregon Zoo and Pittock Mansion just a few miles away, Cedar Mill is a fantastic Portland suburb that allows easy access to the area's notable recreation spots. Public Storage takes great pride in providing Cedar Mill customers with excellent customer service any time of the year.
Public Storage - Portland - 11995 SW Corby Drive
Customer reviews
1 - 5 out of 18 reviews
Perfect Move
Really great contact less and easy to find and move in.
RecommendedYes
Price5/5 (excellent value)
Service5/5 (outstanding)
Cleanliness5/5 (squeaky clean)
- Courtney
Recent
Great service and location just please provide more carts and or wagons to move items about
- Tom Toy
Charity is awesome
So far reserving this storage unit has been the easiest part of my move. Charity has been great to work with and has answered all of my questions. I appreciate the open and honest communication.
RecommendedYes
Price5/5 (excellent value)
Service5/5 (outstanding)
Cleanliness5/5 (squeaky clean)
- Reed
Easy move in
Easy move in. Charity their manager was very helpful and knowledgeable.
- JD
Great location with accommodating and...
Great location with accommodating and friendly staff.
- Calvin Bakke
REVIEWS SUMMARY
6% of respondents would recommend this facility to a friend.
Pros
Good Value(2)
Good Service(2)
Clean(2)