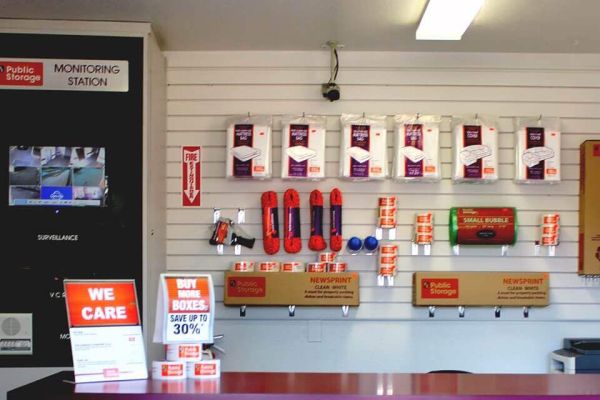 Make a risk free reservation at
Public Storage - Portland - 7402 SE 92nd Ave
50% off 1st Month
10' x 20' unit
Roll Up Door
Drive Up Access
Outdoor Access
1st Floor
Vehicle
Available for enclosed vehicle storage
Only 2 units left
$228.00
$285.00
per month
reserve
Features & amenities
Access
Electronic gate access
Elevator available
Vehicle Storage Requirements
Requires registration
Requires insurance
Vehicle requires title
Must be drivable
Security Features
Fenced & Lighted
Manager lives on-site
Property Coverage
Insurance required
Insurance available
Homeowners/Renters insurance accepted
Billing
Email billing available
First of month
Auto-pay available
Cash accepted
Checks accepted
Credit cards accepted: Visa, AMEX, Mastercard, Discover
office hours
| | |
| --- | --- |
| Sun | 9:30 am - 5:00 pm |
| Mon | 9:30 am - 6:00 pm |
| Tue | 9:30 am - 6:00 pm |
| Wed | 9:30 am - 6:00 pm |
| Thu | 9:30 am - 6:00 pm |
| Fri | 9:30 am - 6:00 pm |
| Sat | 9:30 am - 5:00 pm |
access hours
| | |
| --- | --- |
| Sun | 6:00 am - 5:00 pm |
| Mon | 6:00 am - 6:00 pm |
| Tue | 6:00 am - 6:00 pm |
| Wed | 6:00 am - 6:00 pm |
| Thu | 6:00 am - 6:00 pm |
| Fri | 6:00 am - 6:00 pm |
| Sat | 6:00 am - 5:00 pm |
Facility's fees & requirements
Facility Administration Fee: $29.00
Security Deposit: Security deposit required
About this facility
Lents Public Storage gives customers in the Southeast Portland area plenty of different options when looking for self storage rentals. This facility is located near the intersection of 92nd Avenue and Flavel Street, one block west of Interstate 205. At this property, customers can choose from indoor storage units or outdoor storage units, both of which come in a handful of different sizes. Students at Reed College can use a 5x5 storage unit at this location to keep a handful of boxes out of the way, as well as small furniture items taking up too much space in a residence hall or off-campus apartment. Families in Woodstock getting ready to redo the master bedroom or kitchen can pack oversized items into a 10x20 storage unit, from mattresses and headboards to refrigerators and dishwashers. For residents in Pleasant Valley, a 10x30 storage unit is a convenient option when it's time to pack up an entire five-bedroom home before a big move. At this facility, customers can also take advantage of complimentary moving carts to help hauling heavy loads, as well as a rental office that provides moving boxes and packing supplies for purchase. The manager of this location lives on site. One of Portland's oldest neighborhoods, as well as one of its most diverse, Lents has undergone a bit of a revival in recent years as new development has sprouted up around town, adding a modern touch to the neighborhood's historic charm. Public Storage is proud to be a part of the Lents community.
Public Storage - Portland - 7402 SE 92nd Ave
Customer reviews
6 - 10 out of 22 reviews
The public storage at this location...Good Staff
The public storage at this location (92nd and Favel) were courteous and helpful. I am satisfied with my storage selection.
- Roberto Torres
Our experience has been great
Our experience has been great. We moved from a different storage company and have been surprised how professional and kind Public Storage is.
- Richard
Good but limited hours
Overall good, but I am not a fan of the limited hours we have access. The office doesn't necessarily have to be open but just having access to unit. It doesn't have to be 24/7 but to be open until about 9 or 10 would be great.
- Cody
I am happy with all your service.
I am happy with all your service.
- Daniella Pate
Don't buy boxes or locks- Stick to storage units
I was offered great customer service and happy with the process. My lack of stars on the review is purely based on the cost of goods offered at Public Storage. There is a premium price tag attached to items like boxes and locks. $20 bucks for a lock is a bit rediculous. The boxes marked at 3.09-5.09 EACH is outrageous. I went 4 blocks up the road to Home Depot and for 17 bucks I got a new lock for my storage unit AND all the boxes I would need. Had I made that purchase with Public Storage- for the exact same materials would have been just shy of $80. 17 Vs 80 There is no comparison. You could lower your rates and still make a return on your investment. Thanks. Tyson
- Tyson Defrance
REVIEWS SUMMARY
5% of respondents would recommend this facility to a friend.
Pros
Good Value(2)
Good Service(2)
Clean(2)