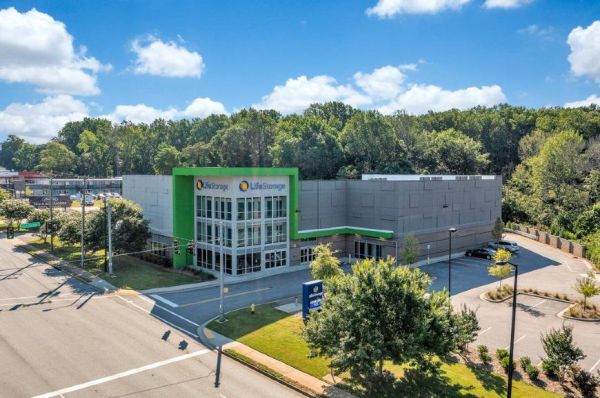 Make a risk free reservation at
Life Storage - Greenville - 426 Wade Hampton Boulevard
Features & amenities
Billing
Email billing available
Auto-pay available
Cash accepted
Checks accepted
Credit cards accepted: Visa, Mastercard, AMEX, Discover
office hours
| | |
| --- | --- |
| Sun | closed |
| Mon | 9:30 am - 6:00 pm |
| Tue | 9:30 am - 6:00 pm |
| Wed | 9:30 am - 6:00 pm |
| Thu | closed |
| Fri | 9:30 am - 6:00 pm |
| Sat | 8:30 am - 5:00 pm |
access hours
| | |
| --- | --- |
| Sun | 6:00 am - 10:00 pm |
| Mon | 6:00 am - 10:00 pm |
| Tue | 6:00 am - 10:00 pm |
| Wed | 6:00 am - 10:00 pm |
| Thu | 6:00 am - 10:00 pm |
| Fri | 6:00 am - 10:00 pm |
| Sat | 6:00 am - 10:00 pm |
Facility's fees & requirements
Facility Administration Fee: $29.00
Life Storage - Greenville - 426 Wade Hampton Boulevard
Customer reviews
1 - 3 out of 3 reviews
Highly recommend
Bill was extremely helpful a d knowledgeable. Grateful for the help he provided since I was having and urgent situation to deal with out of state. He made this much easier for me. The facility was neat and tidy and my unit was spacious and clean. Highly recommend
RecommendedYes
Price5/5 (excellent value)
Service5/5 (outstanding)
Cleanliness5/5 (squeaky clean)
- Cyrena
Good facility. Deceptive online signup.
Love the facility, its design, newness, cleanness. Love the desk person, courteous, knowledgeable and helpful. Only complaints are with the online signup process: 1) when I selected a unit on Floor 1 I expected it was on ground level. It was in fact a basement unit; or that 2) the actual ground level unit did NOT come with one month free; and that 3) there was no mention made of a $16/month minimum mandatory insurance payment. By the time I paid for the unit I THOUGHT I was purchasing online and figured in the insurance payment my ANTICIPATED monthly cost rose 50%. Not a happy experience.
RecommendedYes
Price3/5 (fair price)
Service5/5 (outstanding)
Cleanliness5/5 (squeaky clean)
- Stuart Smith
The best storage space
The units are very clean and it's easy to find your unit. They offer help with the carts and easy elevator access to floors. It's a quiet and safe spot and I recommend this.to anyone
RecommendedYes
Price5/5 (excellent value)
Service5/5 (outstanding)
Cleanliness5/5 (squeaky clean)
- Standtall
REVIEWS SUMMARY
100% of respondents would recommend this facility to a friend.
Pros
Good Value(2)
Good Service(3)
Clean(3)