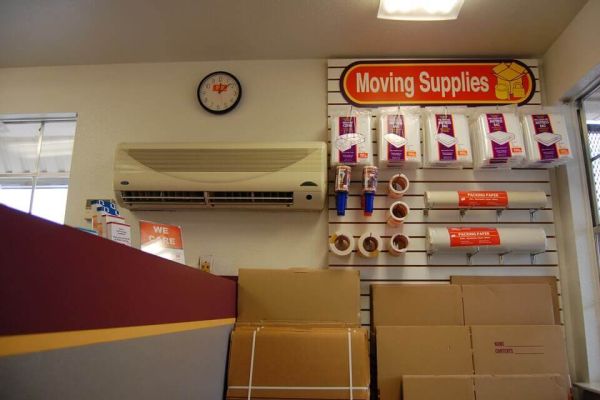 Make a risk free reservation at
Public Storage - Houston - 5151 S Shaver Street
Features & amenities
Vehicle Storage Requirements
Requires registration
Requires insurance
Vehicle requires title
Must be drivable
Security Features
Fenced & Lighted
Manager lives on-site
Property Coverage
Insurance required
Insurance available
Homeowners/Renters insurance accepted
Billing
Email billing available
First of month
Auto-pay available
Cash accepted
Checks accepted
Credit cards accepted: Visa, AMEX, Mastercard, Discover
office hours
| | |
| --- | --- |
| Sun | 9:30 am - 5:00 pm |
| Mon | 9:30 am - 6:00 pm |
| Tue | 9:30 am - 6:00 pm |
| Wed | 9:30 am - 6:00 pm |
| Thu | 9:30 am - 6:00 pm |
| Fri | 9:30 am - 6:00 pm |
| Sat | 9:30 am - 5:00 pm |
access hours
| | |
| --- | --- |
| Sun | 6:00 am - 9:00 pm |
| Mon | 6:00 am - 9:00 pm |
| Tue | 6:00 am - 9:00 pm |
| Wed | 6:00 am - 9:00 pm |
| Thu | 6:00 am - 9:00 pm |
| Fri | 6:00 am - 9:00 pm |
| Sat | 6:00 am - 9:00 pm |
Facility's fees & requirements
Facility Administration Fee: $24.00
Security Deposit: Security deposit required
About this facility
This Public Storage in the southeast Houston neighborhood of South Belt/Ellington is located on Shaver Street right at the intersection with Highway 3/Galveston Road. Offering a variety of cheap self storage units, this location has indoor storage units, as well as drive-up outdoor storage units. One block south of Wilson Memorial Park, what better place to store blankets, backpacks, hiking shoes and athletic equipment than in a 5x5 unit at this location? If it's "out with the old and in with the new" after a busy day shopping at Almeda Mall, a 10x10 unit can easily store large household items and small furniture to make way for the new haul. Families throughout the community, including the Gulf Palms, Beverly Hills, Kirkwood, Scarsdale and Sagemont neighborhoods, will find comfort in a 10x30 unit to store large furniture items, appliances, bikes, tables and more, especially with its easy access from I-45 or Beltway 8. In the early 1900s, this was largely a farming community, but times sure have changed. As more and more residential and commercial development takes shape in South Belt/Ellington, Public Storage is here to offer affordable self storage options for a rapidly expanding community. This facility is open 7 days a week and a property manager lives on site.
Public Storage - Houston - 5151 S Shaver Street
Customer reviews
16 - 18 out of 18 reviews
You asked for a review.
The manager helped me. He was very nice, polite and helpful. I would recommend his location to everyone.
- Martha Altier
Public storage provided acceptable service.
The staff at PS were very helpful. A very strange thing occurred, though, when the 18 wheeler moving van arrived. We were all at the back gate where the big truck was to enter the facility. There were low hanging wires above that entrance - cable or utility - not sure and they were 'catching' on the top of the 18 wheeler cab and it could not easily enter. One of my friends and the staff person had to stand on ladders and 'with brooms in hand' 'lifted' the wires high enough that the semi could enter. It was a very stressful time - we thought the semi would not be able to deliver my goods. Those long hanging wires should have been addressed way prior to the time of my truck's arrival!
- A customer moving from out of state
This storage place has great rates and friendly people.
I just rented from this storage place a month ago. The rates are great and the employees are great also. Plus it is close to me so I don't have far to go to get back and forth to it.
- Charles Bernard