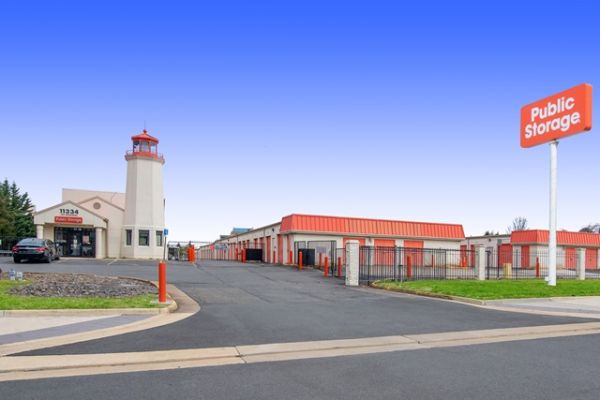 Make a risk free reservation at
Public Storage - Fairfax - 11334 Lee Hwy
10' x 20' unit
Roll Up Door
Drive Up Access
Outdoor Access
1st Floor
Vehicle
Available for enclosed vehicle storage
Only 1 unit left
$374.00
$416.00
per month
reserve
10' x 20' unit
Roll Up Door
Climate Controlled
1st Floor
Vehicle
Interior
Available for enclosed vehicle storage
Only 1 unit left
$399.00
$443.00
per month
reserve
50% off 1st Month
10' x 20' unit
Roll Up Door
Drive Up Access
Outdoor Access
1st Floor
Vehicle
Available for enclosed vehicle storage
Only 1 unit left
$412.00
$457.00
per month
reserve
Features & amenities
Access
Electronic gate access
Elevator available
Vehicle Storage Requirements
Requires registration
Requires insurance
Vehicle requires title
Must be drivable
Property Coverage
Insurance required
Insurance available
Homeowners/Renters insurance accepted
Billing
Email billing available
First of month
Auto-pay available
Cash accepted
Checks accepted
Credit cards accepted: Visa, AMEX, Mastercard, Discover
office hours
| | |
| --- | --- |
| Sun | 9:30 am - 5:00 pm |
| Mon | 9:30 am - 6:00 pm |
| Tue | 9:30 am - 6:00 pm |
| Wed | 9:30 am - 6:00 pm |
| Thu | 9:30 am - 6:00 pm |
| Fri | 9:30 am - 6:00 pm |
| Sat | 9:30 am - 5:00 pm |
access hours
| | |
| --- | --- |
| Sun | 6:00 am - 9:00 pm |
| Mon | 6:00 am - 9:00 pm |
| Tue | 6:00 am - 9:00 pm |
| Wed | 6:00 am - 9:00 pm |
| Thu | 6:00 am - 9:00 pm |
| Fri | 6:00 am - 9:00 pm |
| Sat | 6:00 am - 9:00 pm |
Facility's fees & requirements
Facility Administration Fee: $29.00
Security Deposit: Security deposit required
About this facility
Fairfax storage units located on Lee Highway near I-66 offer convenient storage whether you're zipping around town or commuting into Washington, DC. Keep your car trunk clean by storing your clubs in one of our 5x5 storage units after a day at Penderbrook Golf Club. These storage units are also great for any kind of sports equipment, seasonal clothing, or holiday decorations. Why trip over excess furniture or boxes when you can store them away in one of our 10x10 storage units? With room for the contents of two bedrooms worth of stuff, 10x10 storage units are one of the most popular self storage solutions to reclaiming your space. And don't forget about our spacious 10x20 storage units, ideal for anyone undertaking a home renovation. These extra large units can store five rooms worth of belongings or equipment and materials to keep you organized. With this location, you can get your stuff stored quickly and still have time to enjoy an afternoon in DC strolling along the Tidal Basin, taking the family to the National Zoo, or getting inspired at the Hirshorn Museum, just about half an hour away. Choose from comfortable indoor climate controlled storage units, or an outdoor storage unit with drive up access for easy unloading of awkward and oversized items. No matter what you choose, book a contactless move-in with our eRental program today for all the storage with none of the stress.
Public Storage - Fairfax - 11334 Lee Hwy
Customer reviews
1 - 5 out of 27 reviews
A very good experience
Highly satisfying and good experience.
RecommendedYes
Price5/5 (excellent value)
Service5/5 (outstanding)
Cleanliness5/5 (squeaky clean)
- Diane Zugschwerdt
Great storage facility
Good hours and employee assistance. Clean storage unit. Convenient location.
RecommendedYes
Price5/5 (excellent value)
Service5/5 (outstanding)
Cleanliness5/5 (squeaky clean)
- Jacob
Great
Perfect service, quick response and easy to book! Highly recommended!
RecommendedYes
Price5/5 (excellent value)
Service5/5 (outstanding)
Cleanliness5/5 (squeaky clean)
- Didar
Good space and and fast service despite C19
The Fairfax Public Self storage on Lee Highway was the right choice for me, having spend numerous days in Rockville area MD for storage for my Mustang in vain, and suddenly Sparefoot came up on the web, and I searched there, as I needed min 10x20 and close to Dulles, they found the right size plus more 10 x 30, and a hotel in the back yard, in walking distance, and plenty shopping around. So all turned out right in Dec 2020 when it was time to store my Pony for my next visit this year. Only hitch, the Public self store I used from 2019 to my arrival 22 Nov, was not cancelled at the store when leaving it, and back in my country I had problems entering my account and pay, and I further forgot my details to log in, so after some calls to the store it was fixed. now the cost per month Sparefoot gave me turned out okay the first month, and was then highered 50 $ for unknown reason. The service at the storage was excellent, and the manager took me to see the garage I rented and explained and opened both doors and was absolutely service minded. I feel very secure having my Mustang at their facility. and hope to come over to America soon and drive in it.
RecommendedYes
Price3/5 (fair price)
Service5/5 (outstanding)
Cleanliness5/5 (squeaky clean)
- Anders Peter Hansen
A review of the Fairfax location
Nice welcome to the office, as was greeted with courtesy, direct eye contact and smiles, which I greatly appreciated. The only thing is that I felt pushed ( was ) to get a new lock- when mentioned I had one for the The same Storage Company, as given ( purchased) in Arlington when I was few times over loyal client. And also the Freshener-- NON OF THE TWO I DO NOT NEED!! After receiving my credit card charge and an email on 07/08/2021, I called their offices on Saturday to inquire and express my concern on these charges. The king gentlemen said I could be reimbursed. I plan to go there this week and have these items retuned and my account credited back. I normally, through many decades, have used the Arlington location, yet this time around after ringing the 800# to make an appoint to view space, I was directed to go the Fairfax location. I do appreciate the space and somewhat reasonable rate, I suppose since its in a lower level and convenient to access the storage. So I took the Fairfax location, which is about a 1/2 hour out of the way drive for me. Aside, from not seeing the convince of carrying carts perk for use, everting seems safe, very clean, and great with the Fairfax offices and location. Thank you kindly!
RecommendedYes
Price3/5 (fair price)
Service4/5 (very helpful)
Cleanliness4/5 (clean)
- m n
REVIEWS SUMMARY
13% of respondents would recommend this facility to a friend.
Pros
Good Value(4)
Good Service(6)
Clean(6)