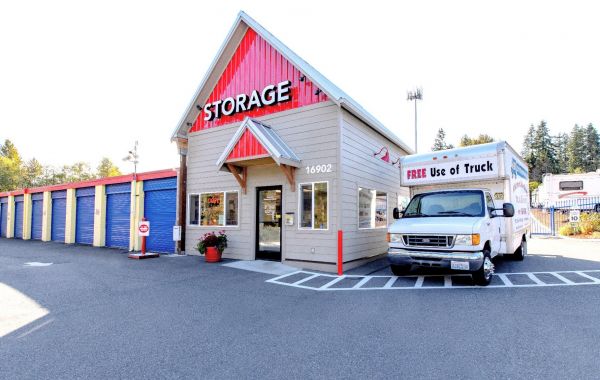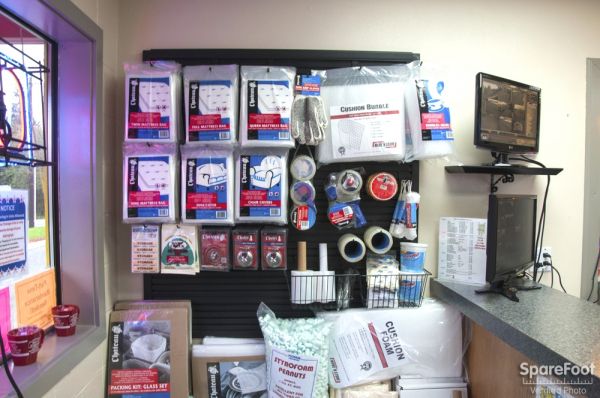 Make a risk free reservation at
Alderwood Safe Storage
Features & amenities
Access
Electronic gate access
Handcarts available
24-hour access (for specific units, with manager approval)
Moving
Truck rental available
Free use of truck (tenant must refuel)
Moving supplies for sale
Vehicle Storage Requirements
Requires registration
Vehicle requires title
Must be drivable
Security Features
Video cameras on site
Fenced & Lighted
Manager lives on-site
Property Coverage
Insurance required
Insurance available
Homeowners/Renters insurance accepted
Discounts
10% Military discount (applies to active-duty, reserves, veterans only)
Billing
Email billing available
Rent due on same day each month per lease start
Auto-pay available
Cash accepted
Checks accepted
Credit cards accepted: Visa, Mastercard, AMEX, Discover
Other
Paperwork can be done remotely
office hours
| | |
| --- | --- |
| Sun | 9:00 am - 5:00 pm |
| Mon | 9:30 am - 6:00 pm |
| Tue | 9:30 am - 6:00 pm |
| Wed | 9:30 am - 6:00 pm |
| Thu | 9:30 am - 6:00 pm |
| Fri | 9:30 am - 6:00 pm |
| Sat | 9:00 am - 5:00 pm |
access hours
| | |
| --- | --- |
| Sun | 6:00 am - 10:00 pm |
| Mon | 6:00 am - 10:00 pm |
| Tue | 6:00 am - 10:00 pm |
| Wed | 6:00 am - 10:00 pm |
| Thu | 6:00 am - 10:00 pm |
| Fri | 6:00 am - 10:00 pm |
| Sat | 6:00 am - 10:00 pm |
Facility's fees & requirements
Facility Administration Fee: $25.00
Security Deposit: Security deposit required
About this facility
Get the Space you need at a Price you can afford! We are proud of the Security, Services and Selection that our storage has to offer. Our Hi-Tech Security Features that we offer are sure to give you peace of mind while storing your stuff. All of our spaces are clean and bright! From small closet spaces to extra-large contractor spaces, we have the space you are looking for! We are the solution to your storage needs We have a professionally trained staff that is devoted to providing you with excellent red carpet service. COME SEE WHAT'S FREE! We offer all our customers a FREE gift on the 1st visit, a FREE tamper resistant lock with every rental and FREE use of our Move-In Truck (with a rental of 5x10 or larger)! We also offer a Referral Bonus Program. For every new tenant you send our way, we will give you $50 Cash! No need to be a customer to refer a friend. Our competitive rates, large selection of sizes, friendly staff and discounted boxes & moving supplies, your choice is clear when storing with us! We look forward to earning your business and our service will prove it. Your stuff will LOVE storing with us!
Customer reviews
16 - 20 out of 24 reviews
Friendly & Efficient!
This is my first experience with renting a storage unit. I inquired at other storage businesses & quickly was turned off by snooty employees I met Alice, at the Alderwood Mall facility & she is an angel. We became immediate friends. She walked me thru my first experience with every appropriate detail necessary. I signed up & was to move in a few days later. On moving day, Alice was off for the day & two other young ladies walked me thru & the maintenance man, Steve was very helpful with helping me find & open my own space. I will definitely recommend this business to my friends!
RecommendedYes
Price4/5 (good value)
Service5/5 (outstanding)
Cleanliness5/5 (squeaky clean)
- Diane
Friendly nice people
I accidentally went to the storage business next store with a filled up truck and car, intending to move my belongings in right away. The business told me they don't take "appointments" after 5:15, despite closing at 6 PM. It was after 5:15 so I decided to go next door to Alderwood Safe Storage, where they had another customer signing up. I waiting for a short while, was shown a rental space and then filled out papers. It was after 6 PM, their closing time, but there were no complaints from the employees about them working later. They were both gracious and that meant a lot to me.
RecommendedYes
Price5/5 (excellent value)
Service5/5 (outstanding)
Cleanliness5/5 (squeaky clean)
- Mary
Excellent Facilities and Customer Service
I was very well treated by the staff at Safe Storage Alderwood and was able to rent a space that is convenient and very well suited to my needs.
RecommendedYes
Price4/5 (good value)
Service5/5 (outstanding)
Cleanliness5/5 (squeaky clean)
- Edward
I arrived promptly at 9:00 to pick up the truck and finalize my paperwork. Due to my orn fault, didn't have my proof of insurance. Ruth did a fabulous job of tracking down my agent and getting the proof faxed to us. She was exceptional even on a very hectic Monday morn, Thanks
RecommendedYes
Price4/5 (good value)
Service5/5 (outstanding)
Cleanliness4/5 (clean)
- Sharon James
Overall it was good. I didn't really care for the fact there are 2 separate doors to the space which means 2 locks on it. And because its WA & it tends to rain alot, the space looked like outside elements could easily effect my space. The employee helping us with this move in, seemed a little unorganized, frazzled at times, & had a bit of a hard time closing/opening the door to the storage. She was very down to earth, seemed nice, & understanding.
RecommendedYes
Price2/5 (a little steep)
Service3/5 (helpful)
Cleanliness3/5 (average)
- Sonaly
REVIEWS SUMMARY
100% of respondents would recommend this facility to a friend.
Pros
Good Value(18)
Good Service(23)
Clean(22)